FREE shipping on book orders over $75.00 (Media Mail within USA)
Gift Cards are easy! Hover over SHOP on the bar above and select Gift Cards from the drop down menu.
Quick tip: If a book is listed as "On our Shelves" - call the store for quickest pick up.
Twain's End (Hardcover)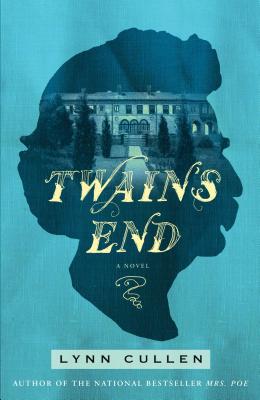 Please email or write store for pricing and availability information.
Special Request - May Not Be Available
October 2015 Indie Next List
---
"Isabel Lyon, who was born to gentility, supported herself as a nanny and a secretary and is best known as secretary/companion to the family of Samuel Clemens. Her late marriage to Clemens' business manager left her life in shambles, as afterwards both were fired and slandered. What led to those dramatic shifts is the premise behind Twain's End. Mark Twain may be beloved beyond all American writers, but Cullen has crafted a well-researched tale supporting the view that a very manipulative, selfish, and distant Samuel Clemens and his family hid behind that facade. It is up to you to decide. A marvelous read!"
— Becky Milner (M), Vintage Books, Vancouver, WA
Description
---
"Reputation-squaring novel. Cullen splashes a surplus of fuel onto her incendiary raw material." —New York Times

"Ms. Cullen is the Bronte of our day." —Huffington Post

A "People Pick"

"Intelligently drawn." —Library Journal

Starred Review from Publishers Weekly

From the bestselling and highly acclaimed author of the "page-turning tale" (Library Journal, starred review) Mrs. Poe comes a fictionalized imagining of the personal life of America's most iconic writer: Mark Twain.

In March of 1909, Mark Twain cheerfully blessed the wedding of his private secretary, Isabel V. Lyon, and his business manager, Ralph Ashcroft. One month later, he fired both. He proceeded to write a ferocious 429-page rant about the pair, calling Isabel "a liar, a forger, a thief, a hypocrite, a drunkard, a sneak, a humbug, a traitor, a conspirator, a filthy-minded and salacious slut pining for seduction." Twain and his daughter, Clara Clemens, then slandered Isabel in the newspapers, erasing her nearly seven years of devoted service to their family. How did Lyon go from being the beloved secretary who ran Twain's life to a woman he was determined to destroy?

In Twain's End, Lynn Cullen reimagines the tangled relationships between Twain, Lyon, and Ashcroft, as well as the little-known love triangle between Helen Keller, her teacher Anne Sullivan Macy, and Anne's husband, John Macy, which comes to light during their visit to Twain's Connecticut home in 1909. Add to the party a furious Clara Clemens, smarting from her own failed love affair, and carefully kept veneers shatter.

Based on Isabel Lyon's extant diary, Twain's writings and letters, and events in Twain's boyhood that may have altered his ability to love, Twain's End explores this real-life tale of doomed love.
About the Author
---
Lynn Cullen grew up in Fort Wayne, Indiana and is the bestselling author of The Sisters of Summit Avenue, Twain's End, and Mrs. Poe, which was named an NPR 2013 Great Read and an Indie Next List selection. She lives in Atlanta.
Praise For…
---
Praise for Twain's End

"Reputation-squaring novel. Cullen splashes a surplus of fuel onto her incendiary raw material."
— New York Times Book Review

"The extraordinary relationship between…Mark Twain, and his longtime secretary Isabel Lyon is wonderfully reimagined in this absorbing novel…[a] fascinating interpretation of this early 20th century literary immortal, distinguished by incisive character portrayals and no-holds-barred scrutiny."
— Publishers Weekly, starred review

"Cullen brings a formidable and fascinating novel of thwarted love. Readers will be enthralled by the story."
— RT Book Reviews, four-star review

"Intelligently drawn…Cullen expertly portrays both Samuel Clemens and Mark Twain… fans of historical fiction and biographies will enjoy."
— Library Journal

"Twain's End remains a book that is a joy to read. Ms. Cullen is the Bronte of our day."
— Huffington Post

"A tender evocation of a vain, complicated man's twilight years and last chance at love."
— People

"Twain's End is a well-researched love story and history…readers will savor this accessible view of the enigmatic Mark Twain."
— Shelf Awareness

"[Cullen is] a wonderful writer…Twain's End should be on your reading list."
— Bookreporter.com

"Cullen has a knack for weaving in small details to create rich fictional portraits of real-life figures."
— Atlanta Magazine

"A fascinating book about a complicated writer."
— The Missourian

"We're riveted as Twain comes alive—faults and all—but in the end we're captured and captivated by him. Heartbreaking, passionate, profoundly interesting and readable. Cullen has once again jettisoned herself to another time and place and delivered historical fiction fans with an utterly fascinating read."
— New York Times bestseller M.J. Rose

"Every room radiates with deliciously calibrated tension and hidden desires in Twain's End. It is in its psychological truths that the novel succeeds most brilliantly, revealing the inevitable wounds in a relationship between a famous person and an ordinary one, and what happens when the balance of power changes. A riveting read."
— Nancy Bilyeau, author of THE CHALICE

"The breadth of research and faithfulness to the subjects is evident in Twain's End. With clarity and honesty, Cullen resurrects one of America's most complicated and well-known writers and his intimates in vivid, fascinating, and sometimes shocking ways. Twain's End is more than a study in character; it is a cautionary tale of the spoils of fame and power, and those intoxicated by it. Captivating."
— Erika Robuck, bestselling author of HEMINGWAY'S GIRL

"The utterly fascinating and heartbreaking story of the aging literary lion Mark Twain and his intelligent, beautiful devoted secretary Isabel who loved and understood him… a rich novel which will sweep you into a remarkable world."
— Stephanie Cowell, author of CLAUDE AND CAMILLE

"Mark Twain's last decade roars with intrigue and yearning as Lynn Cullen brings our attention to his complicated relationship with Isabel Lyon, his personal secretary who has been long overlooked. A great read for fans of Z and The Paris Wife. Cullen illuminates the darker, outermost corners of Samuel Clemens's later years, the caged lives of his daughters, his dying wife, and a woman 'Mark Twain' was never meant to love."
— Suzanne Rindell, author of THE OTHER TYPIST

"Twain's End is an unflinching, clear-eyed view into the last years of one of American's most beloved authors. Ms. Cullen delves deep and gives us a glimpse into the pain that shaped the mask worn by Samuel Clemens. Brilliant and insightful. I hated to reach the end."
— Susan Crandall, bestselling author of THE FLYING CIRCUS and WHISTLING PAST THE GRAVEYARD

"Lynn Cullen is both a masterful writer and literary detective. Meticulous research and keen curiosity led her to piece together a fascinating account of the last seven years of Mark Twain's life. Though the story of Isabel and Sam took place over a hundred years ago, its concerns remain with us today: the corrupting nature of power and fame, the corroding legacy of slavery in America, the ways in which childhood wounds continue to cripple us throughout our adult lives, the fact that love is sometimes not enough when it comes to the relationships between women and men. To the public, Twain might have been 'Known to Everyone, Liked by All,' but to those closest to him, he was a troubled and difficult man. Cullen shows Mark Twain 'warts and all,' yet we—and the utterly sympathetic Isabel Lyon—still love his irascible spirit, a spirit that nearly leaps off the page. In short: Twain's End is a fabulous read; I loved this book."
— Susan Rebecca White, author of A PLACE AT THE TABLE

"Twain's End is an exquisitely nuanced portrayal of the American icon and the woman who dared to love him. With superb attention to detail, and deep understanding and care for her protagonists, Lynn Cullen brings this deliciously complex story to life, delivering everything we expect in a modern masterpiece."
— Anne Girard, author of MADAME PICASSO

"With Twain's End, Lynn Cullen has once again proven herself a master of historical fiction. This remarkable book explores the life of Mark Twain as seen through the eyes of the women in his household. As each interacts with the legendary Twain, the reader is allowed glimpses of the man—Samuel Clemens—living behind the well-known persona who rode in on a comet's coattails and made the entire world laugh. Lynn Cullen is an outstanding writer, and Twain's End is an exceptional book."
— Raymond Atkins, author of SWEETWATER BLUES