The One Rule for Boys - How Empathy and Emotional Understanding Will Improve Just about Everything for Your Son (Paperback)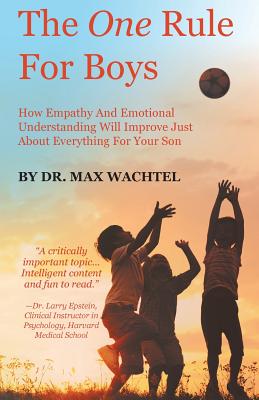 Please email or write store for pricing and availability information.
Available to Order - Usually Arrives in Our Store in 4 to 7 Days
Description
---
Raising boys can be challenging at times. Okay, most of the time. But it doesn't have to be. The One Rule for Boys takes a practical approach to teaching boys the importance of regulating their own emotions and understanding the emotions of others. Yes, it's a skill any boy can learn, and it will improve just about every area of his life. Rather than settling for the destructive and emotionally crippling boys-will-be-boys attitude, which leaves many of society's boys aggressive, angry, and emotionally unprepared, Dr. Max Wachtel explains how teaching empathy skills to your boys prepares them for the complexities of modern life: school, friendships, bullying, careers, and relationships. Leadership, assertiveness, and treating women with respect―empathy improves all of these. It may even keep your boys from running over a horse on the side of the road (more on that in Chapter 3). Far from turning boys into overly emotional pushovers, Dr. Max compiles information from countless studies demonstrating how emotional understanding actually helps boys improve their decision-making and assertiveness skills. By providing a step-by-step teaching guide, dozens of quick tips, and plenty of sample statements you can say to your boys when you are at a loss for words, Dr. Max has created a simple, practical, well-researched, and often very amusing book designed to help parents and educators teach empathy to their boys. His goal is to help parents guide their sons to reach their full potential in life and be part of a generation that changes the world for the better.