The Fifth Gospel: A Novel (Paperback)
Now Open for Prepaid Curbside Pickup at Colfax Avenue. Phone Ordering and Inquires. Limited Hours.
For your safety and ours, our stores are still closed to the public. Our website is now open (24/7).
We're also offering Prepaid Curbside Pick up at our Colfax Avenue location only. Pick up hours will be 12:00 pm to 6:00 pm on Tuesday through Friday and 10:00 am to 2:00 pm on Saturday.
Please wait for confirmation that your order is ready before coming to the store. We cannot promise same day order and pick up, but we will process your request as fast as we can. We appreciate your patience.
Also, our Colfax Avenue phone lines are now open 10:00 am to 4:00 pm on weekdays for inquiries and ordering. 303-322-7727. We look forward to hearing from you!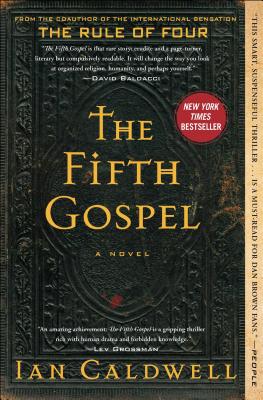 Please email or write store for pricing and availability information.
Special Request - May Not Be Available
March 2015 Indie Next List
---
"One of the great mysteries of the Catholic Church, The Shroud of Turin, has inspired one of the great writers of our time to create this masterful thriller. Two brothers -- Alex, a Greek Catholic priest, and Simon, a Roman Catholic priest -- are drawn into the intrigue surrounding the Shroud and the origins of the Church following the murder of their friend Ugo, an eccentric curator obsessed with the Shroud who was preparing a major exhibit in the Vatican Gallery. Alex and Simon are dedicated brothers and priests, yet as different in temperament and faith as they are similar in conviction and loyalty. Caldwell unveils much about the world behind the Vatican walls, even as the intricate plot builds to a climax. A spectacular achievement!"
— Luisa Smith, Book Passage, Corte Madera, CA
Description
---
The #1 Indie Next Pick and instant, long-running New York Times bestseller from Ian Caldwell, coauthor of the international sensation The Rule of Four: The Fifth Gospel is a masterful intellectual thriller that "will change the way you look at organized religion, humanity, and perhaps yourself" (David Baldacci).

Acclaimed by critics as a "smart, suspenseful thriller" (People) that "kicks off at ninety miles per hour and doesn't slow down" (Associated Press), Ian Caldwell's The Fifth Gospel was also a significant commercial success that spent eight weeks on the New York Times bestseller list in hardcover and was selected as a #1 Indie Next Pick by America's independent booksellers.

In 2004, as Pope John Paul II's reign enters its twilight, a mysterious exhibit is under construction at the Vatican Museums. A week before it is scheduled to open, its curator is murdered at a clandestine meeting on the outskirts of Rome. The same night, a violent break-in rocks the home of the curator's research partner, Father Alex Andreou. When the papal police fail to identify a suspect in either crime, Father Alex undertakes his own investigation. To find the killer he must reconstruct the dead curator's secret: what the four Christian gospels—and a little-known, true-to-life fifth gospel known as the Diatessaron—reveal about the Church's most controversial holy relic. But just as he begins to understand the truth about his friend's death, Father Alex finds himself hunted down by someone with vested stakes in the exhibit—someone he must outwit to survive.

At once a riveting intellectual thriller, a feast of biblical history and scholarship, and a moving family drama, The Fifth Gospel is "spectacular…deliciously labyrinthine…this superb Rubik's Cube of a novel is the best of its kind" (The Providence Journal).
About the Author
---
Ian Caldwell is the author of the New York Times bestsellers The Fifth Gospel and (with Dustin Thomason) The Rule of Four, which sold nearly two million copies in North America and was translated into thirty-five languages. He lives in Virginia with his wife and children.
Praise For…
---
"Spectacular . . . Caldwell knows his Vatican, and in his detailed descriptions of hidden gardens, underground car parks, piazzas, dark lanes, tunnels and corridors, conjures up a strange and alien realm where hierarchy is all, secrets fester and multiply, deals are spun behind closed doors, and a murderer may be on the loose. . . . This superb Rubik's Cube of a novel is the best of its kind, right up until the final shock and the pope's dying wish. . . . Deliciously labyrinthine." —Providence Journal

"A stunning and addictive read . . . Part murder mystery, part family drama, part religious history, this keep-you-on-edge literary thriller doesn't miss a beat. Caldwell's elegant language combines with a truly provocative plot . . . Obsessively readable." —Library Journal, Editors' Spring Picks

"A novel of betrayals and cover-ups, but mostly of sacrifice, of commitment and of love, with credible characters, twists and turns of plot, and a fascinating theological rationale . . . Although the mystery and the tension mount inexorably throughout the novel, there's none of the cheap end-of-chapter cliffhangers beloved of hack thriller writers. Everything in The Fifth Gospel rings true because Ian Caldwell spent ten years researching and writing the novel." —The Catholic Herald

"The second novel from Ian Caldwell, coauthor of the bestselling The Rule of Four, kicks off at 90 mph and doesn't slow down. Caldwell's skill as a writer is evident in his ability to weave detailed descriptions of Biblical scripture, Catholic history, and Vatican geography into the story while keeping the action going. . . . He has created memorable characters with complex relationships, deep love, and longstanding hurts. . . . Ultimately, Caldwell's novel is about faith—in God and in family." —Associated Press

"This beguiling, brainy thriller . . . integrates pulp plotting and scholarly speculation . . . A mixture of courtroom drama, whodunit, and alternative history." —Sunday Times (London)

"It's been ten years since Ian Caldwell co-wrote The Rule of Four. The Fifth Gospel was more than worth the wait. For those who might compare it to The Da Vinci Code, don't. This marvelous book stands alone and will become the very high standard for any novel in this genre. Masterfully plotted and extraordinarily researched, and written in a voice that never rings false, The Fifth Gospel is that rare story: erudite and a page-turner, literary but compulsively readable. It will change the way you look at organized religion, humanity, and perhaps yourself." —David Baldacci

"You are going to hear a lot about how this book took ten years to write and how it's minutely researched and erudite. Forget all that. This thing reads like a rocket. Jump on and hold tight." —Mary Doria Russell, author of The Sparrow

"An amazing achievement: The Fifth Gospel is a gripping thriller rich with human drama and forbidden knowledge." —Lev Grossman, author of the Magicians trilogy

"The Fifth Gospel is nothing short of groundbreaking—a literary feast wrapped around an intriguing murder mystery. Caldwell writes with precision and passion as he takes us on an emotional journey deep into the workings of the Vatican and deeper into the hearts and souls of the men and women who have devoted their lives to the Church. The Fifth Gospel is a cathedral where skeptics and believers alike may enter and all will leave transformed." —Nelson DeMille

"Under Caldwell's deft hand, the Vatican becomes a setting both real and surreal, utopian and dystopian by turns, a tiny, walled country where the switchboard operators and nannies are nuns, the cops are Swiss Guards, and a priest suspected of murder is tried not for his life but for the meaning he has given it. In such a setting, small and seemingly arcane details of scriptural interpretation are clues to the mystery, driving the interlocking dramas of family and history in ways that aren't just plausible but compelling. There is passion in The Fifth Gospel, and a tremendous depth of knowledge; the fruits of Caldwell's obviously extensive research are served up in perfectly timed portions that propel the action in surprising ways." —Kate Braestrup, ordained minister and author of Here If You Need Me

"Captivating . . . This thriller is, at its heart, a story of sacrifice, forgiveness, and redemption. Peppered with references to real-life people, places, and events, the narrative rings true, taking the reader on an emotional journey nearly two thousand years in the making." —Library Journal (starred review)

"A brilliant work . . . Extraordinarily erudite . . . Caldwell makes intriguing literature from complex theology." —Kirkus Reviews (starred review)

"Here motives are nuanced shadows that are as hard to grasp for Alex as they are for readers. It is this very elusiveness, juxtaposed against a strong sense of place, that intrigues, making this the best kind of page-turner, one about which you also have to think." —Booklist (starred review)

"A superior religious thriller, notable for its existential and spiritual profundity . . . An intelligent and deeply contemplative writing style, along with more than a few bombshell plot twists, set this one above the pack, but it's the insightful character development that makes this redemptive story so moving." —Publishers Weekly (starred review)

"Captivating . . . Punches all the right twisty buttons to lead readers on a fascinating and compelling religious adventure . . . A sparkling thriller." —Shelf Awareness

"This smart, suspenseful thriller by the coauthor of The Rule of Four is a must for Dan Brown fans." —People

Praise for The Rule of Four:

"Profoundly erudite . . . The ultimate puzzle-book." —The New York Times Book Review

"One part The Da Vinci Code, one part The Name of the Rose and one part A Separate Peace . . . A smart, swift, multitextured tale that both entertains and informs . . . As much a blazingly good yarn as it is an exceptional piece of scholarship." —San Francisco Chronicle

"Ingenious . . . The real treat here is the process of discovery." —The New York Times

"This debut packs all the esoteric information of The Da Vinci Code . . . with lovely writing reminiscent of Donna Tartt's The Secret History. . . . A compulsively readable novel." —People (Critic's Choice, 4 stars)

"A stunning first novel; a perfect blend of suspense and a sensitive coming of age story. If F. Scott Fitzgerald, Umberto Eco, and Dan Brown teamed up to write a novel, the result would be The Rule of Four. An extraordinary and brilliant accomplishment—a must read." —Nelson DeMille