FREE shipping on book orders over $75.00
USPS Media Mail within USA
Gift Cards are easy! Click SHOP on the bar above and choose Gift Cards.
Finding Murph: How Joe Murphy Went From Winning a Championship to Living Homeless in the Bush (Hardcover)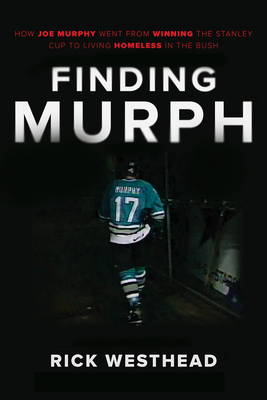 Please email or write store for pricing and availability information.
Special Request - May Not Be Available
Description
---
JOE MURPHY HAD IT ALL. In 1986, he became the first college-educated hockey player selected first overall in the NHL entry draft. He won a Stanley Cup in Edmonton four years later. But since then, his life has taken a tragic turn, largely due to the untreated brain injuries he suffered as a player.
Murphy's life didn't begin on a track that would lead to homelessness. He was smart, dedicated to hockey and was a key player for the Oilers, Red Wings and Blackhawks, among other teams. But one vicious body check changed his life forever. Despite being shaken by the hit, Murphy was cleared to return to the game. Soon after, his entire life seemed to change. 
Murphy became a journeyman, moving from team to team. Along the way, other NHLers said they noticed something different about him, too. Murphy wasn't acting like himself and soon found himself out of the NHL entirely. Eventually, Murphy became homeless.
In the spring of 2018, Murphy made his way to Kenora, Ontario, where he lived in the bush, spending his days outside a local convenience store, muttering to himself and taking handouts of food and drinks from passersby. The player who had once set the NHL aflame now slept by the side of the road in the unforgiving North. 
In Finding Murph, Rick Westhead traces the true story of Joe Murphy and examines the role of the NHL in the downward spiral of one of the league's most promising players.
About the Author
---
RICK WESTHEAD is a senior correspondent for TSN and a contributor to CTV National News and W5. An award-winning investigative journalist with twenty-five years of experience, Westhead explores important issues in sports and offers his own unique perspective on the stories he breaks. Prior to joining TSN, Westhead served as a contributor to the New York Times and was a foreign affairs writer for the Toronto Star, where he also covered sports business. He was born in Oakville, Ontario, and raised in Burlington.
Praise For…
---
"[Shines] a much-needed light on the dark corners of the game we all love."
— —Eric Lindros, former NHL player, Hockey Hall of Fame member

"Finding Murph should be mandatory reading for any parent, teenager or current professional hockey player. Rick Westhead does an excellent job conveying information about the risks of repetitive head trauma and how the subsequent mental-health complications that can arise can rob you of your quality of life. Joe is all of us. Through Joe's story, we witness first-hand just how dangerous and life-altering brain injuries can be." 
— —Dan Carcillo, former NHL player, two-time Stanley Cup winner

"Few have pursued hockey's relationship with concussions with more diligence than Rick Westhead, and in Finding Murph, Rick finds and traces the life of one the sport's lost boys, from his glorious beginning, through his NHL career, to a sad, hard existence on the streets. I'm glad this book was written, because too often hockey conveniently forgets its inconvenient heroes, especially when concussions are involved. Murph needed to be found." 
— —Bruce Arthur, Toronto Star

"Rick Westhead has never been hesitant to ask the difficult questions and provide the uncomfortable answers. He certainly does that in Finding Murph, where he chronicles the shocking and depressing downfall of an NHL star and first overall pick who failed himself against the backdrop of a league and [game culture] that also failed him. If the game of hockey and the NHL indeed turn out to be on the wrong side of history when it comes to their approach to head trauma, Finding Murph will be remembered as one of the essential tomes."
— —Ken Campbell, The Hockey News

"With an unflinching eye and an uncompromising approach, Rick Westhead examines pro hockey's troubling relationship with concussion, and with the veteran players who are often left to suffer the effects in silence. Westhead shines a light on the culture of a sport where 'playing hurt' has not just been celebrated as a virtue but as a requirement. In Finding Murph, he deftly weaves the story of one troubled star into the broader narrative of a sport grappling with a health crisis."
— —Sean Fitz-Gerald, senior writer at The Athletic and author of Before the Lights Go Out: A Season Inside a Game on The Brink

"Finding Murph is a manifesto for change. Anyone in the hockey world who wants to ensure the lives of players are not negatively impacted during and after their careers should read it."
— —Craig Button, former general manager of the Calgary Flames