Visions of Earth: National Geographic Photographs of Beauty, Majesty, and Wonder (Hardcover)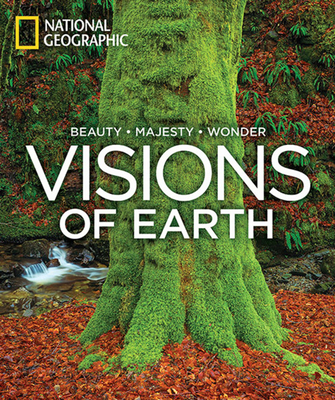 Please email or write store for pricing and availability information.
Special Request - May Not Be Available
Description
---
Visions of Earth raises a curtain on the wonders of the world and thrills us with nature's opulence and humanity's splendor. Each image alone exposes a nugget of our planet's magnificence; the totality of the collection goes beyond our imagination. Turning the pages, viewers are struck by the richness of life on Earth. One photograph is more awe-inspiring than the next--chosen by veteran National Geographic Magazine photo editors to present what is visually incredible. The photographs are drawn from the popular "Visions of Earth" feature in the magazine, (rated #1 by readers), from our own storied Image Collection, and from renowned photographers throughout the world, many never-before published. Enthralling images fill the book in a gallery of stunning landscapes, fascinating people, amazing animals, and unexpected glimpses of the usual and unusual. Puffins' beaks signal breeding time in Norway and a speckled emperor moth in South Africa diverts predators with an illusion. An elephant takes a morning dip in India's Andaman Sea while Siamese crocodiles race in Thailand and surfers in Australia relish a perfect day. Monks in Bhutan run to dinner and a little girl in red stands out among white-robed women in an Indonesian mosque. Spanish youth decked in colorful, oversize papier-m ch heads celebrate a festival in Catalonia and a flower of flame blooms from a man's kerosene-filled mouth in a Sikh celebration in India. Around the globe, amazing moments are captured in time, from a spray of flash frozen petal fragments in California to a truck show of chrome-covered and gleaming neon rigs half the world away in Japan. Visions of Earth is a welcome escape from the news of natural disasters, conflict, political upheaval, and social unrest that fills our lives. The book delights our senses, ignites our emotions, and renews our optimism, showcasing the many ways that our world is a marvel to behold and a privilege to call home.
About the Author
---
NATIONAL GEOGRAPHIC is one of the world's leading nonfiction publishers, proudly supporting the work of scientists, explorers, photographers, and authors, as well as publishing a diverse list of books that celebrate the world and all that is in it. National Geographic Books creates and distributes print and digital works that inspire, entertain, teach, and give readers access to a world of discovery and possibility on a wide range of nonfiction subjects from animals to travel, cartography to history, fun facts to moving stories. A portion of all National Geographic proceeds is used to fund exploration, conservation, and education through ongoing contributions to the work of the National Geographic Society.
Praise For…
---
"Top-notch photographers circle the globe in search of things beautiful and wondrous. The result is an uplifting, unifying 'vision' of our world."
--USA Today

"The catholic range of the photographs that still drive [National Geographic magazine's] popularity is reflected in the new collection Visions of Earth."
--Wall Street Journal

"Incredible images include macro shots of strange American species, haunting landscapes featuring fisherman and swimming baitfish, and British ladies donning bold one-pieces."
--Huffington Post

"…extraordinary in the way [the images] entice and intrigue, inviting viewers to revel not only in the beauty of scenes, people, and objects, but also in playful, imaginative, and surprising points of view." –Book News, Inc.
 
"It's a compendium of jaw-dropping images — landscapes, animals, interesting people, with the accent on the unusual — captured by the magazine's sterling staff of shooters." Mysanantonio.com