The First Paul: Reclaiming the Radical Visionary Behind the Church's Conservative Icon (MP3 CD)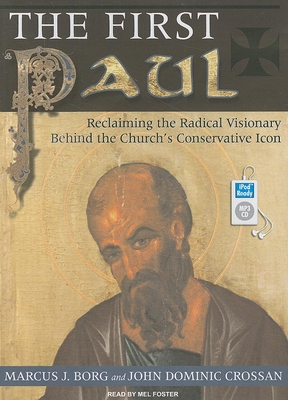 Please email or write store for pricing and availability information.
Special Request - May Not Be Available
Description
---
Paul is second only to Jesus as the most important person in the birth of Christianity, and yet he continues to be controversial, even among Christians. How could the letters of Paul be used both to inspire radical grace and to endorse systems of oppression-condoning slavery, subordinating women, and condemning homosexual behavior? Marcus J. Borg and John Dominic Crossan use the best of biblical and historical scholarship to explain the reasons for Paul's mixed reputation and reveal to us what scholars have known for decades: that the later letters of Paul were created by the early church to dilute Paul's egalitarian message and transform him into something more "acceptable." They argue that there are actually "Three Pauls" in the New Testament: "The Radical Paul" (of the seven genuine letters), "The Conservative Paul" (of the three disputed epistles), and "The Reactionary Paul" (of the three inauthentic letters). By closely examining this progression of Paul's letters-from the authentic to the inauthentic-the authors show how the apostle was slowly but steadily "deradicalized" to fit Roman social norms in regards to slavery, patriarchy, and patronage. In truth, Paul was an appealing apostle of Jesus whose vision of life "in Christ"-one of his favored phrases-is remarkably faithful to the message of Jesus himself.
About the Author
---
Marcus J. Borg is the Hundere Distinguished Professor of Religion and Culture, Emeritus, at Oregon State University and the author of the bestselling "Meeting Jesus Again for the First Time" and "The Heart of Christianity." John Dominic Crossan is an emeritus professor of religious studies at DePaul University in Chicago andthe author of "God and Empire" and "The Birth of Christianity."

Mel Foster has narrated over 150 audiobooks and has won several awards. Twice an Audie finalist for "1864: Lincoln at the Gates of History" by Charles Bracelen Flood and "Finding God in Unexpected Places" by Philip Yancey, he won for the latter title.
Praise For…
---
"A refreshing and heartening exculpation of a still routinely maligned figure of the first importance to culture and civilization." ---Booklist Starred Review