Our First Revolution: The Remarkable British Upheaval That Inspired America's Founding Fathers (Paperback)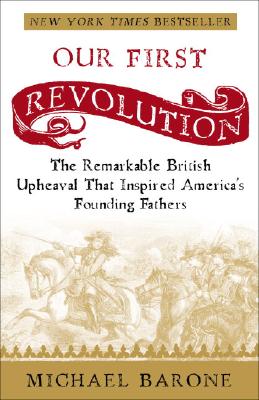 Please email or write store for pricing and availability information.
Special Request - May Not Be Available
Description
---
In this exciting work of popular history, Michael Barone brings the story of the Glorious Revolution-an unlikely late-seventeenth-century British uprising-to American readers and reveals that, without it, the American Revolution may never have happened. With a strong narrative drive and unforgettable portraits of kings, queens, and soldiers, Barone takes an episode that has fallen into unjustified obscurity and restores it to the prominence it deserves.
About the Author
---
MICHAEL BARONE is a senior writer with U.S. News & World Report and a contributor to Fox News Channel. He is the principal coauthor of the biannual Almanac of American Politics and the author of Our Country, The New Americans, and Hard America, Soft America.
Praise For…
---
"Michael Barone's definition of a revolution is more conservative than mine, but it's exactly the irony - of a conservative revolution - that lends point and weight to his absorbing study of an event that changed much more than it set out to change. Without 1688 there would have been no 1776."
—Christopher Hitchens

"We all know Michael Barone as one of the nation's most insightful observers of the American political scene. Now, turning his considerable talents to the Glorious Revolution, he has woven a rich, varied, and fascinating tale, a saga not simply of British liberties, but ultimately, one which would have great resonance for America's Founders as well."
—Jay Winik, author of April 1865: The Month That Saved America


"Not content with being the most knowledgeable commentator on the nuts and bolts of American politics, Michael Barone now provides a splendid analysis of the intellectual pedigree of America's political order. He demonstrates the remarkable extent to which our revolution was a reverberation of another one."
—George F. Will, Pulitzer Prize—winning columnist

"Michael Barone is legendary as the author of The Almanac of American Politics, the Bible of the Beltway. With this sparkling new study he shows that he should be well known as an historian also. His compelling narrative reveals how the Glorious Revolution of 1688 shaped America's own revolution less than a century later. Barone demonstrates that a political journalist supremely sensitive to the tides that govern electoral politics can teach professional historians a great deal."
—Paul A. Rahe, Jay P. Walker Professor of American History at the University of Tulsa

"A well-researched, well-written, thought-provoking book."
—Wall Street Journal

"Loved it. It's so dramatic and theatrical."
—Jon Stewart, The Daily Show

"An important new book . . . Thanks to writers like David McCullough, Richard Brookhiser, David Hackett Fischer, and now Barone, we still have both an interest and a legitimate pride in who we are and where we come from."
—Chicago Sun-Times