Puccini Without Excuses: A Refreshing Reassessment of the World's Most Popular Composer (Paperback)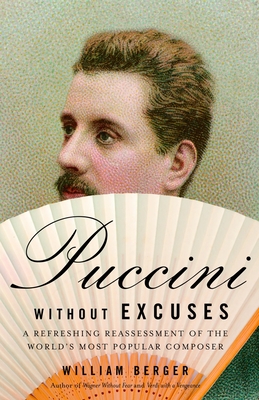 Please email or write store for pricing and availability information.
Special Request - May Not Be Available
Description
---
Puccini is the most beloved composer of opera in the world: one quarter of all opera performances in the U.S. are of his operas, his music pervades movie soundtracks, and his plots have infiltrated our popular culture. But, although Puccini's art still captivates audiences and the popularity of such works as Tosca, La Bohéme, and Madama Butterfly has never waned, he has long been a victim of critical snobbery and cultural marginalization.
In this witty and informative guide for beginners and fans alike, William Berger sets the record straight, reclaiming Puccini as a serious artist. Combining his trademark irreverent humor with passionate enthusiasm, Berger strikes just the right balance of introductory information and thought-provoking analysis. He includes a biography, discussions of each opera, a glossary, fun facts and anecdotes, and above all keen insight into Puccini's enduring power. For anyone who loves Puccini and for anyone who just wonders what all the fuss is about, Puccini Without Excuses is funny, challenging, and always a pleasure to read.
INCLUDES:
• Why Puccini's art and its message of hope is crucial to our world today
• How Anglo audiences often miss the mythic significance of his operas
• The use of his music as shorthand in films, from A Room with a View to Fatal Attraction

• A scene-by scene analysis of each opera
• A guide to the wealth of available recordings, books, and videos
About the Author
---
William Berger was born in California and studied Romance languages and music at the University of California at Santa Cruz. He worked for five years at the San Francisco Opera Company, where he acquired for the company's recorded music collection. He is the author of Wagner Without Fear: Learning to Love—and Even Enjoy—Opera's Most Demanding Genius and Verdi With a Vengeance: An Energetic Guide to the Life and Complete Works of the King of Opera. He is a frequent lecturer and radio commentator and has recently been a regular host for New York Public Radio's Overnight Music. He has written libretti, performance pieces, and articles on a wide variety of topics including architecture, religion, and, of course, music. He is a music host for WNYC radio and lives in New York.