One Month to Live: Thirty Days to a No-Regrets Life (Hardcover)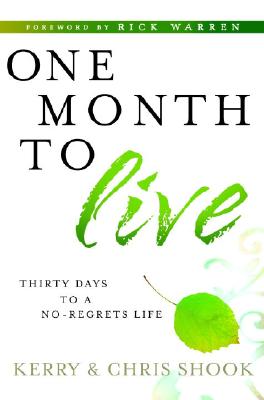 Please email or write store for pricing and availability information.
Special Request - May Not Be Available
Description
---
Take the 30-Days to Live Challenge!

What if you only had one month to live? How would you make each day meaningful? How would you relate to others differently? What would you do to make the rest of your life really matter?

With eye-opening insights and soul-inspiring truths, One Month to Live will challenge you to embrace the life God has entrusted to you and you alone, and to live it out moment by moment with wholehearted authenticity, honesty, and integrity.

Each chapter overflows with inspiring quotations, colorful true stories, and questions for reflection. The four sections, which can be read over four weeks, help you examine the core areas inside you that long to be exercised and expressed: how you're made to live passionately, love boldly, learn from your mistakes, and leave a legacy that endures for generations after you're gone. Complete with uplifting action points, each of the thirty chapters– one per day in a life-changing month–offers you fresh strategies for overcoming habits that mire you in mediocrity.

Open yourself to the challenge of embracing your mortality and being empowered to live each day engaged in being fully alive.
About the Author
---
Kerry Shook and his wife, Chris, founded Fellowship of The Woodlands in 1993; and since then, the church has grown to 16,380 in average attendance each weekend. Fellowship of The Woodlands, now Woodlands Church, is one church in three locations with its Fellowship campus in The Woodlands outside of Houston, Texas. Winner of the prestigious Church Health Award presented by Saddleback Church, Kerry and his church have been featured in numerous publications and media outlets, and his sermons are televised each week across the country and around the world. Kerry and Chris are the parents of four children.
Praise For…
---
Praise for One Month to Live

"So many of us waste our lives with 'when and then' thinking, believing that 'when' this or that happens, 'then' we will really start living and do something for God that really matters. That approach is guaranteed to leave you with regrets. At the end of your life, the only thing that will matter is whether you accomplished God's purpose for your life. Jesus was just 12 when he said, 'I must be about My Father's business.' Barely 20 years later, he could say to the Father, 'I have completed the work you gave me to do.' If we all had that kind of focus and concentration in our lives, there's no telling what God could accomplish in the world! Kerry and Chris Shook want you to grasp that amazing insight: Embracing your mortality sets you free to live a meaningful and significant life without regret. One Month to Live is a great way to discover the purposeful, joyful, abundant life God created you to enjoy!"
–Rick Warren, founding pastor, Saddleback Church, and author of international bestseller, The Purpose Driven Life

"Kerry and Chris Shook are world-class leaders whose lives and ministry have impacted untold numbers of people, including me. Regardless of where you are on your spiritual journey, One Month to Live will challenge you to passionately live the life you were made for and leave an eternal legacy."
–Bill Hybels, Founding Pastor, Willowcreek Church and bestselling author of Too Busy Not to Pray 

"Kerry Shook is a friend, devoted father, supportive husband, and inspiring pastor. As one of today's most gifted communicators, Kerry's unique and creative style enables him to take the most complex issues and make them practical and relevant to daily living. He has a genuine love for people that is contagious. His ministry is changing the lives of individuals and families here in Houston and transforming communities all across the nation."
–Joel Osteen, pastor of Lakewood Church and bestselling author of Your Best Life Now

"If you want new urgency, fresh purpose, and a sharper focus for your life, then this book is for you. Read it and your future may be changed forever!"
–Lee Strobel, author of The Case for the Real Jesus