Painted Dresses (Paperback)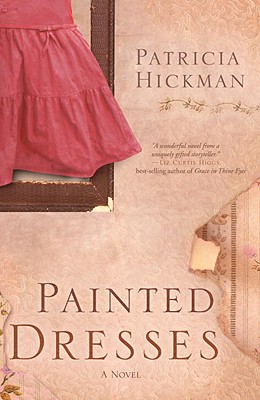 Please email or write store for pricing and availability information.
Special Request - May Not Be Available
Description
---
Two sisters embark on a road trip to seek out far-flung relatives and uncover the truth hidden behind the painted over lives of past family members. Gaylen Syler-Boatwright flees her unraveling marriage to take refuge in a mountain cottage owned by her deceased aunt. Burdened with looking after her adult sister, Delia, she is shocked to find a trail of family secrets hidden within her aunt's odd collection of framed, painted dresses. With Delia, who attracts trouble as a daily occupation, Gaylen embarks on a road trip that throws the unlikely pair together on a journey to painful understanding and delightful revelations. Steeped in Hickman's trademark humor, her spare writing voice, and the bittersweet pathos of the South, Painted Dresses powerfully captures a woman's desperate longing to uncover a hidden, broken life and discover the liberty of living authentically, even when the things exposed are shrouded in shame.
About the Author
---
PATRICIA HICKMAN is an award-winner, speaker and humorist who has won two Silver Angel Awards for Excellence in Media as well as a Romantic Times Reader's Choice Gold Award for her novel Katrina's Wings. Patricia holds a master's degree in creative writing from Queens University and enjoys biking, hiking, and mapping out the Southern towns where her novels are set.
Praise For…
---
"Painted Dresses is both wise and witty, full of living, breathing people, rather than cardboard characters. I'm sure I went to high school with Gaylen, dated Braden, partied with Delia, and ran away from Freddy–that's how convincingly they leaped off the page. Amusing at one turn, sobering the next, Painted Dresses captures life in all its messy glory. A wonderful novel from a uniquely gifted storyteller."
–Liz Curtis Higgs, best-selling author of Grace in Thine Eyes

"Gaylen is the responsible sister; Delia the impulsive younger. With only parentage in common, and a vague but troubling memory, the two find themselves thrown together, chasing clues to their childhood angst while staying two steps ahead of a hired killer. Patricia Hickman writes from the heart. I could not put it down."
–Lawana Blackwell, author of The Gresham Chronicles

"With engaging characters–quirky, flawed, but endearing–a vivid sense of place, and a wonderfully droll, tell-it-like-it-is narrator in Gaylen Boatwright, Painted Dresses is the ideal book to lose yourself in on a rainy–or any–day."
–Naeem Murr, author of The Boy, The Genius of the Sea, and The Perfect Man

"Don't miss Painted Dresses! Through Patricia's pen pours passion and playfulness. The energy in her writing alone will sweep you off your weary feet and into an adventure that you won't soon forget!"
–Patsy Clairmont, author of I Second That Emotion

"I can still see those painted dresses in my mind…sensing the hidden pain behind the layers of paint. As usual, Patricia does an artful job of developing realistic characters, transporting them to those somber places where it's not always easy to travel."
–Melody Carlson, author of The Other Side of Darkness, Finding Alice, and Crystal Lies

"Award-winning author Hickman weaves a wonderful tale of women who have triumphed over adversity in this sensitive, caring, heartfelt story. It's a story readers will remember long after they have finished the book.
Summary: Gaylen Syler-Boatwright heads to her late Aunt Amity's house to get her life back on track. She discovers a gallery of dresses in frames with the names of her relatives on them and hits the road with her sister to find some of them. Gaylen discovers long-buried family secrets and, through the grace of God, learns the hardest lesson of all -- to forgive and move into the future with a clean slate."
–Patsy Glans, Romantic Times