Jane Brody's Guide to the Great Beyond: A Practical Primer to Help You and Your Loved Ones Prepare Medically, Legally, and Emotionally for the End of (Hardcover)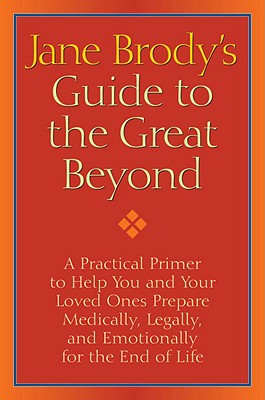 Please email or write store for pricing and availability information.
Special Request - May Not Be Available
Description
---
From the beloved New York Times columnist, trusted authority on health, and bestselling author comes this complete guide to everything you need to know-emotionally, spiritually, and practically-to prepare for the end of life. An invaluable road map to putting your affairs in order-or helping your loved ones do the same-this comprehensive book will answer every question you might have about what does and does not help smooth the transition between life and the Great Beyond. Wise, practical, and characteristically straightforward throughout, Brody advises on - the intricacies of a well-thought-out (and fully spelled-out) living will that health care practitioners readily understand-and how to designate a health care proxy.
- planning a funeral or memorial to ensure your wishes are followed, including tips on how to reduce expenses.
- discussing prognoses and treatment options with doctors.
- your options for controlling pain, shortness of breath, bed sores, and other physical symptoms-plus the facts on feeding tubes.
- receiving the support you need through hospice care-and suggestions for loved ones and friends who want to help.
- lightening and enlightening your trials by incorporating spirituality into your life.
- understanding what happens, physically and mentally, when death is imminent, and recognizing when hand-holding and reassurance, not food or drink or an oxygen mask or CPR, is the proper course of action.
- easing your way through the journey of grief by admitting the reality of the loss, showing your emotions, and allowing yourself the time you feel you need. No matter your age or current health, preparing for the inevitable when you are still fully in control of your faculties ensures that you'll be in a far better position to enjoy the time you have left. As Brody notes, "From the start, consider the finish.
About the Author
---
Jane Brody writes a weekly personal health column for The New York Times, which is syndicated in scores of other newspapers around the country. She is the author of several books, including Jane Brody's Good Food Book, Jane Brody's Nutrition Book, and Jane Brody's Good Seafood Book. She has also written many magazine articles and frequently lectures on health issues to audiences both lay and professional. She has appeared on hundreds of radio and television shows and has received numerous prestigious awards for journalistic excellence.
Praise For…
---
Advance praise for Jane Brody's Guide to the Great Beyond

"We're all going to die some day, so we might as well do it right. Jane Brody, a master of information and storytelling, does that in her wonderful and enjoyable new book. This is for everyone who doesn't like the subject–and for everyone else as well. "
–Betty Rollin, author of Last Wish and Here's the Bright Side

"Jane Brody teaches us how to go smartly into the good night, holding our loved one's hands, heads held high."
–Dan Shapiro, Ph.D., Arnold P. Gold Professor of Medical Humanism, Penn State College of Medicine

"I didn't think it could be done, but then Jane Brody has always accomplished the impossible–she has demystified and given us real control over the thing we fear the most. This book is a gift to all her fellow humans."
–Diane E. Meier, M.D., director, Center to Advance Palliative Care, Mount Sinai School of Medicine

"This is more than a 'primer.' It is a must-read for anyone dealing with his or her own end-of-life issues or those of a loved one. Brody leads us on a journey we would rather not take by explaining things we would rather not think about –with compassion, caring, and an understanding that death is an inevitable part of life for which we must prepare."
–William D. Novelli, CEO, AARP

"At long last we have a comprehensive, humane book about end-of-life care. This is not a 'pop' book but rather a thoughtful, science-based, honest discussion of a topic people want to avoid–and do so at their own risk. While it is facile to speak of a 'good death' it is all too easy to mis-plan and end up experiencing a bad one."
–Robert N. Butler, M.D., president and CEO, International Longevity Center