The Tyrannicide Brief: The Story of the Man Who Sent Charles I to the Scaffold (Hardcover)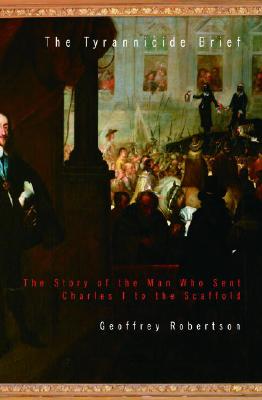 Please email or write store for pricing and availability information.
Special Request - May Not Be Available
Description
---
Charles I waged civil wars that cost one in ten Englishmen their lives. But in 1649 Parliament was hard put to find a lawyer with the skill and daring to prosecute a King who claimed to be above the law: in the end the man they briefed was the radical lawyer John Cooke. His Puritan conscience, political vision, and love of civil liberties gave him the courage to bring the King's trial to its dramatic conclusion: the English Republic. He would pay dearly for it: Charles I was beheaded, but eleven years later Cooke himself was arrested, tried, and brutally executed at the hands of Charles II.

Geoffrey Robertson, an internationally renowned human rights lawyer, provides a vivid new reading of the tumultuous Civil War years, exposing long-hidden truths: that the King was guilty as charged, that his execution was necessary to establish the sovereignty of Parliament, that the regicide trials were rigged and their victims should be seen as national heroes.

John Cooke sacrificed his own life to make tyranny a crime. His trial of Charles I, the first trial of a head of state for waging war on his own people, became a forerunner of the trials of Augusto Pinochet, Slobodan Milosevic, and Saddam Hussein. This is a superb work of history that casts a revelatory light on some of the most important issues of our time.
Praise For…
---
Praise from the United Kingdom for
The Tyrannicide Brief

"Those terrible, blood-soaked years are vividly conjured up by Geoffrey Robertson. This is a fine book: well researched, well written, well indexed and well illustrated. The fact there is no bibliography is evidence that Robertson has broken new ground. Not only has he written the first biography of John Cooke, one of the pivotal figures of the mid-seventeenth century, but he has illuminated the legal process by which a powerful monarch was held to account by the law of the land."
–Sunday Herald

"In telling his story, Geoffrey Robertson has redeemed from obscurity an unsung hero of true greatness, a selfless champion of the poor and a law reformer of rare distinction. More important, he has shed invigorating light on the course of the English Civil War."
–The Spectator

"Geoffrey Robertson provides us with some fascinating insights into this significant case. What makes the book especially illuminating are the parallels with modern practice . . . [A] work of great compassion and, at a time when it seems to be fashionable for politicians to denigrate lawyers, an essential read for anyone who believes in the fearless independence of the law."
–The Times

"[Robertson's] forensic intelligence can penetrate where professional historians have not yet reached."
–Literary Review

"A work of literary advocacy as elegant, impassioned and original as any the author can ever have laid before a court."
–The Observer