The Willow Field (Hardcover)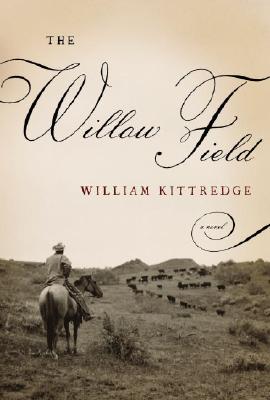 Please email or write store for pricing and availability information.
Special Request - May Not Be Available
Description
---
Annie Dillard has called him "one of our finest writers." Jane Smiley has declared his voice "prophetic."  Now, at long last—after two collections of stories, another two of essays, and the heralded memoir A Hole in the Sky—William Kittredge gives us his first novel: an epic that stretches over the twentieth century, from the settlers, cowboys, and gamblers who opened up this country to the landholders and politicians who ran it.

Rossie Benasco's horseback existence begins when he's fifteen and culminates in a thousand-mile drive of more than two hundred head of horses through the Rockies into Calgary, through Oregon, Idaho, and Montana, across virgin wilderness, failed homesteads, ghost towns, squatters' camps, and Indian settlements. It's a journey that leads him, ultimately, to Eliza Stevenson and a love so powerful that his vocational aimlessness is focused only by his desire to spend his life with her: whether on her family ranch in the Bitterroot, which will prove their best refuge from a century fraught with war and civil strife, or on sojourns in Hawaii and Guam during World War II, or in the horse-trading business in California, or on the campaign trail throughout Montana.

A novel rich with landscapes and characters, The Willow Field chronicles a way of life nearly extinct at the novel's beginning and surviving only in memory upon its close at century's end. And as these people pivot between the ghosts of the old frontier and the modern world that engulfs them—from the uprooted lives of the Blackfeet tribes left listless and betrayed to the ravages of war, McCarthyism, urban riots, and insidious land development—the perennial imperatives of ambition, responsibility, and love prove as vital as ever, revealed as they are with the conviction, humor, and humanity for which Kittredge has long been acclaimed.
Praise For…
---
"Hoist yourself into the saddle and ride along for this terse tumbleweed of a novel and you'll know what to make of the phrase writing the West . . . [Its] elements call for distilled storytelling, of which Kittredge proves master."
--John Balzar, Los Angeles Times Book Review

"[In his] beautifully composed novel about a cowboy of Basque origin who grows up in the 20th century in his home state of Montana, William Kittredge, one of the American West's most respected fiction writers and essayists, put us on notice that [he] has become a worthy successor to A. B. Guthrie and 'The Great Montana Novel.'"
--Alan Cheuse, San Francisco Chronicle

"This much is true: William Kittredge has remastered the Western saga, creating in The Willow Field a story with such classic scenes and characters that it nearly conjures déjà vu. It doesn't quite, because Kittredge's characters are fresh and new while remaining faithful to the era of the mid-20th century West."
--Skye K. Moody, Seattle Times

"So seductive you'll want to strap on spurs and light out for the territory. The Willow Field spans most of the 20th century and describes a way of life that hung on for decades after the country slipped into the effete and poisonous modern age . . . A showcase for the startling beauty of Kittredge's prose and his knowledge of the West . . . sensitively and intricately drawn. "
--Ron Charles, The Washington Post Book World

"Love, sorrow, frustration, the compromises that men and women make to live together, horses, politics, friendship, the look and feel of the West between 1933 and 1991--it's all here. Kittredge uses strong, earthy language to tell the story . . . laying his meanings between the lines like a modern Ernest Hemingway . . "
--Library Journal

"Luminous . . . An exploration of the magnetic fields that draw people together and push them apart . . . Kittredge knows that deal, and he gets it exactly right."
--Bill Ott, Booklist, starred review

"The Willow Field is a big, wild-hearted American saga. An instant classic."
–Gretel Ehrlich

"Superlatives can be annoying, but when a man so many of us love steps up to the plate in his mid-seventies and parks it, what can we do but throw our hats at the sky? The Willow Field is the shit. Historically and geographically sweeping; soaringly lyrical yet so tuned to the terse wisdom of its horseman hero it sends chills all the way down to your saddle and into and on out the horse. William Kittredge is the bard laureate of the American West, and this novel will be bringing people joy thousands of days from today."
—David James Duncan

"With a compelling confidence . . . Kittredge balances earthy dialogue with lyrical prose to create a memorable evocation of the American west."
--Publishers Weekly

"The Willow Field is a Western in the richest sense of that word. There is a taproot here, and something elemental about the American West comes pushing through the prose itself. I read it as a love song too, part lament, part passionate embrace, by a writer obsessed with a complex terrain he knows from the bottom up, from the inside out. I salute Bill Kittredge for what he has given us in this abundant and heartful book." --James D. Houston

"As much as this powerful novel is infatuated with the American West--its grave succession that ends in modernity, its land and animals as viewed by humans, its conflicts and trials, its quiet--it is also a novel in love with language itself, as stargazers are in love with light. Kittredge's novel is ample and satisfying and luminous. It's surely the book he was most meant to write."
--Richard Ford