Recipes Remembered: A Celebration of Survival (Hardcover)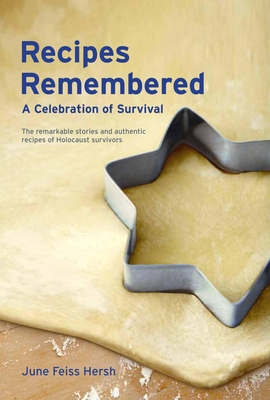 Please email or write store for pricing and availability information.
Special Request - May Not Be Available
Description
---
Recipes Remembered gives voice to the remarkable stories and cherished recipes of the Holocaust community.  The first professionally written kosher cookbook of its kind is a moving compilation of food memories, stories about food and families, and recipes from Holocaust survivors from Poland, Austria, Germany, Hungary, Czechoslovakia, Romania, Russia, Ukraine, and Greece.
About the Author
---
June Feiss Hersh graduated from the University of Pennsylvania with a degree in Elementary Education and a concentration in Journalism. She pursued both paths by becoming a teacher at The Solomon Schechter Day School while earning her Master's degree in Gifted and Talented Education as well as writing freelance articles for local publications and educational magazines. After working in her family's lighting business for close to two decades, June found a new passion. She combined her talent for cooking with her dedicated support of the Museum of Jewish Heritage -- A Living Memorial to the Holocaust by writing "Recipes Remembered." She recently completed her second book, "The Kosher Carnivore "(St. Martin's Press, 2011) and is at work on her third book "Simple, Simpler, Simplest. "Visit June on the web at www.eatmywordsplease.com >E-mail June at June@eatmywordsplease.com.
Praise For…
---
All the recipes in this book are wonderful!
- Mayor Edward I. Koch 
This patiently gathered, touching and important archive of heirloom recipes with their
companion stories is a heartwarming must-have gem, 
- Gale Gand, nationally acclaimed pastry chef, restaurateur, cookbook author, and television personality
June Hersh offers us a rare gift in this cookbook. It is a testament to the Jewish human
condition and its ability to transcend the past and move forward without forgetting. The
survivors' stories of deep love and great loss moved me. The understanding that for
many, these recipes are all that remains of large, close, precious families takes my breath
away. The juxtaposition of their brave stories with recipes only makes what they endured
even more unimaginable. May the food of their memories nourish our spirits.
—
Suzie Fishbein, author of the Kosher by Design series of cookbooks
-Suzie Fishbein
A book like this, that helps we Jews hand down this central aspect of our culture, the
food that has nourished us through the ages, makes an important contribution to the
on-going struggle to keep the Jewish faith alive. I am proud to be a part of it, especially
because of the connection with the Museum of Jewish Heritage, on whose board I so
proudly serve. -
Dr. Ruth Westheimer
-Dr.Ruth Westheimer
With the publication of this book a remnant of Jewish Life is snatched out of the fire that consumed so much. It ensures that the stories, recipes and kitchen rituals of those survivors of the Holocaust who appear in its pages can be carried forward for generations, not just as ancestral artifacts, but as vital components of our daily lives, carriers of tradition, ensurers of continuity, and symbols of triumph.
- Cara De Silva, author/editor In Memory's Kitchen: A Legacy for the Women of Terezin
-Cara De Silva
Reading this unique book of special memories, in which the hope of once again enjoying family favorites with loved ones kept survivors going, is an emotional experience. My mother was the lucky one in her family; she left Warsaw as a child before the Holocaust. "Recipes Remembered" is to me a conversation I never got to have. The book has a collection of traditional and modern Jewish recipes, and I''m looking forward to trying them, beginning with Bialys, Holishkes, Chremslach and Poppy Seed Cookies. -
Faye Levy, author, Healthy Cooking for the Jewish Home and 1,000 Jewish Recipes
.
-Faye Levy