The Boy from the Tower of the Moon (Paperback)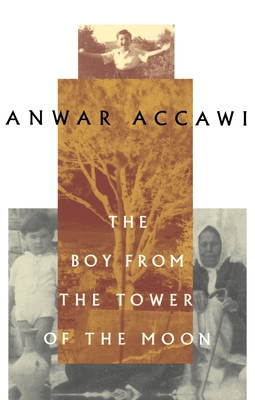 Please email or write store for pricing and availability information.
Available to Order - Usually Arrives in Our Store in 4 to 7 Days
Description
---
It is the story of Anwar Accawi's spiritual development in a subsistence farming village and his community's dramatic encounters with the modern world and Western culture. In his fond and beautifully crafted reminiscences of his family, the rituals of life in their complete and insulated ecosystem, and the characters who populate his world, Accawi transports us to Magdaluna, the Tower of the Moon, as desolate and distant now as the craters of our moon.
Praise For…
---
Bustling, 'obscenely poor,' disease-ridden, Magdaluna ("Tower of the Moon") is a Lebanese village where everybody is related to everybody else by blood or marriage. The town's petty scandals, bitter feuds, oral traditions and colorful characters provide grist for Accawi's bittersweet memoir, a series of essays told with sprightly humor and imbued with the ironic wisdom of a mature man looking back on youthful naivete. By age five, the precocious narrator realizes that grownups are fickle, cruel, often amoral. The narrative is loosely structured around 'learning moments,' or 'steps' on the metaphorical 'pyramid' of personal identity that Accawi erects skyward: the death of a beloved raccoon, the village's very first radio in 1947, his discovery of the written word and so forth. The strongest piece deals with his deeply religious, Presbyterian, no-nonsense grandmother, whose faith was sorely tested by the cancer that left her paralyzed from the waist down. While Accawi's father is a distant figure, his tough Syrian mother, illiterate but wise, steels him to face life's challenges. The wide-eyed narrator nostalgically evokes visits to the village by itinerant Gypsies, a Turkish bear trainer, a Moroccan medicine man. But emigration and the advent of cars and telephones fueled the village's slow, agonizing death and, after the Lebanese civil war broke out in 1975, Muslim soldiers razed the hamlet. Throughout, Accawi . . . spins lyrical, magical stories, vividly charting a boy's awakening to the mysteries of death, life, grief, sex and God." —Publishers Weekly"Accawi lived in the remote Lebanese mountain village of Magdaluna just after World War II. In each short, evocative chapter, he describes the simple pleasures of his life-tasting the first pressing from the olive harvest, hearing the village smithy call to neighbors across the valley, or the joy of being sent to the store for cigarettes by the men playing cards. He expresses the feeling of total loss when his first pet was killed and the horror of watching his beloved grandmother die of cancer. He remembers the ecstasy of touching a girl for the first time. But, perhaps, the most interesting chapters to teens immersed in modern technology will be his vivid descriptions of the first time he and the villagers heard a gramophone, saw and tasted ice, talked on the telephone, or rode in a car. The author clearly portrays the feelings of both awe and consternation as he experimented with these new inventions, and he explains how they changed his village from an insulated, self-sufficient community to a loosely knit group of commuting consumers interested in a never-ending supply of convenient goods, and who fled for the big city or America as soon as they possibly could. A brief epilogue describes his return to Lebanon and the terror of the country's civil war. Teens will enjoy this short, easy-to-read memoir of a rich, rural existence in a bygone time." —Library Journal