GYN/Ecology: The Metaethics of Radical Feminism (Paperback)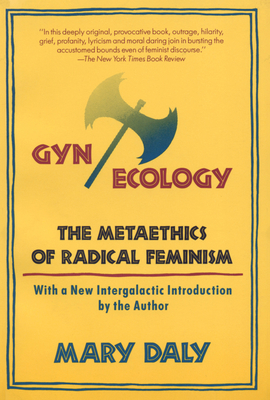 Please email or write store for pricing and availability information.
Available to Order - Usually Arrives in Our Store in 4 to 7 Days
Description
---
This revised edition includes a New Intergalactic Introduction by the Author.

Mary Daly's New Intergalactic Introduction explores her process as a Crafty Pirate on the Journey of Writing Gyn/Ecology and reveals the autobiographical context of this "Thunderbolt of Rage" that she first hurled against the patriarchs in 1979 and no hurls again in the Re-Surging Movement of Radical Feminism in the Be-Dazzling Nineties.
About the Author
---
Mary Daly (1928-2010) was a world-renowned radical feminist philosopher who held doctorates in theology and philosophy from the University of Fribourg in Switzerland. Her groundbreaking books include Church and Second Sex, Beyond God the Father, Gyn/Ecology, Pure Lust, Websters' First New Intergalatic Wickedary of the English Languague (Conjured in Cahoots with Jane Caputi), and Outercourse.
Praise For…
---
"In this deeply original, provocative book, outrage, hilarity, grief, profanity, lyricism and moral daring join in bursting the accustomed bounds even of feminist discourse." —The New York Times Book Review

"Daly's insights into the background of radical feminism…are brilliant, and her synthesis of theology, mythology, philosophy, history, and medicine is absolutely overwhelming." —Library Journal

"Gyn/Ecology is a great leap forward in feminist theory…It defies simplistic categorizations of political theory, philosophy of religion, or even poetry. The book is all of these yet none, because it goes beyond them." —Janice Raymond, New Women's Times Feminist Review

"A vivid and exciting work, destined to become of landmark in the radical feminist process." —Chrysalis

"Brilliant and soaring, Mary Daly's Gyn/Ecology is the most amazing book I've ever read. It set me spinning. A wonderfully dangerous book." —Gena Corea

"Daly writes with deep healing anger and uncompromising vision. Her book gives a shock of awakening such as is found in the works of Simone de Beauvoir." —Publishers Weekly