Rise to Greatness: Abraham Lincoln and America's Most Perilous Year (Hardcover)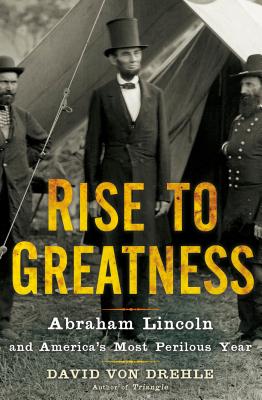 Please email or write store for pricing and availability information.
Special Request - May Not Be Available
Description
---
The electrifying story of Abraham Lincoln's rise to greatness during the most perilous year in our nation's history
As 1862 dawned, the American republic was at death's door. The federal government appeared overwhelmed, the U.S. Treasury was broke, and the Union's top general was gravely ill. The Confederacy with its booming economy, expert military leadership, and commanding position on the battlefield had a clear view to victory. To a remarkable extent, the survival of the country depended on the judgment, cunning, and resilience of the unschooled frontier lawyer who had recently been elected president.
Twelve months later, the Civil War had become a cataclysm but the tide had turned. The Union generals who would win the war had at last emerged, and the Confederate Army had suffered the key losses that would lead to its doom. The blueprint of modern America an expanding colossus of industrial and financial might had been indelibly inked. And the man who brought the nation through its darkest hour, Abraham Lincoln, had been forged into a singular leader.
In "Rise to Greatness," acclaimed author David Von Drehle has created both a deeply human portrait of America's greatest president and a rich, dramatic narrative about our most fateful year.
About the Author
---
David von Drehle is the author of three previous books, including the award-winning "Triangle," a history of the Triangle shirtwaist factory fire that "The New York Times" called "social history at its best." An editor-at-large at "Time" magazine, he and his family live in Kansas City, Missouri.

""
Praise For…
---
One of Kansas City Star's Top 100 Books of 2012
Featured in PBS "Washington Week" Holiday Gift Guide One of
Kirkus Reviews
's Best Nonfiction 2012
"1862 was the year of Lincoln's 'Rise to Greatness'… Von Drehle recounts the dramatic military and political events of that year, interspersing them with human-interest stories of ordinary people caught up in extraordinary times… These pages crackle with life and energy."—James McPherson, New York Review of Books
"Outstanding… Lean, insightful and often lyrical."—USA Today
"Spellbinding….Von Drehle has done a masterful job of extracting riveting anecdotes from original sources and balancing them with recent contributions to the field. Blending good research with a gift for page-turning narrative, he adroitly weaves together the complex military, diplomatic, political, legal and moral saga of the 12 months of 1862."— The Washington Post
"An invigorating, inspiring and often heartrending portrait of a great man and a troubled country…Von Drehle's deeply researched book provides a degree of detail that Hollywood can't touch."—Kansas City Star
"A compelling, sharply written narrative of the events of 1862, when the odds were against the survival of the Union itself…  Amid the shelves of Civil War tomes, Rise to Greatness stands out as a brisk, compact history of Lincoln's evolution as a leader. Von Drehle persuasively calls 1862 'the hinge of American history'."—Miami Herald
"Riveting … Equal parts war story, political intrigue and character study, the book at times reads as much like a John Grisham page-turner as serious history… For those with an invigorated taste to learn more about Lincoln — the real man, not the icon — The Rise of Greatness is a must read."— The Omaha World-Herald
"More has been written and discussed about Abraham Lincoln than about any other U.S. president, and for good reason… The Von Drehle book and the Spielberg film effectively serve as bookends to the story of how Lincoln's personality allowed him to navigate and shape the beginning of the war and the end of it."—Harvard Business Review
"Appealingly written and artistically constructed…Von Drehle, a first-rank narrator, writes better than most historians… Von Drehle's largest contribution lies in his illuminating discussions of Lincoln as a superb leader."—The Oregonian
"A marvelous and gripping story, compellingly and beautifully written." —Commentary Magazine
"In Rise to Greatness, acclaimed author David Von Drehle has created a deeply human portrait of arguably America's greatest president fueled by a rich, dramatic narrative focusing on our most fateful year."—The Blaze
"Brilliant."—Real Clear Politics
"Von Drehle's polished style and sense of drama will appeal to general readers interested in this formative time in American history… Von Drehle makes a strong case that Lincoln's remarkable development both as a military strategist and as a political genius occurred during [1862], laying the groundwork for eventual Union triumph."—Library Journal
"A thoroughly engaging examination of the irreversible changes emerging from a year when the nation's very survival remained in doubt."—Kirkus Reviews
"Von Drehle has chosen a critical year ('the most eventful year in American history' and the year Lincoln rose to greatness), done his homework, and written a spirited account."— Publishers Weekly
"With his keen journalist's eye for detail, and the surefooted feel of an historian, David Von Drehle has produced an enthralling book. Rise to Greatness is a marvelous and important story, marvelously told."—Jay Winik, author of April 1865
"Rise to Greatness is a terrific read packed with fascinating facts that add color to a powerful depiction of the Civil War's second year.  The narrative is driven by Lincoln's movement toward freedom for the slaves and his growing disenchantment with General McClellan, climaxed by the general's removal from command and the president's issuance of the Emancipation Proclamation."--James M. McPherson, author of Battle Cry of Freedom
"In the perilous year leading up to the signing of the Emancipation Proclamation, Abraham Lincoln had to maneuver against his own generals and cabinet officers while fending off dark forces desiring disunion or dictatorship. By succeeding, as David von Drehle shows in this fascinating narrative, Lincoln saved the Union and redefined the American presidency. This is not only an important work of history but also a valuable manual on leadership."--Walter Isaacson, author of Einstein and Steve Jobs
"Rise to Greatness is a fascinating and fast-paced account of Lincoln's pivotal year. David Von Drehle brilliantly captures the epic events and outsized personalities that accompanied the birth of the Emancipation Proclamation. His book succeeds in making a well-known story feel absolutely compelling."--Amanda Foreman, author of A World on Fire and Georgiana
"In this vivid, writerly, well-researched account, David Von Drehle demonstrates, month by month, that 1862 made Lincoln's presidency. In the haze of Civil War nostalgia, we can easily lose sight of the reality that the odds were terrible that a United States in any form would survive that harrowing year. Yet as Rise to Greatness shows, the events of 1862 gave birth to a different nation, one rooted in emancipation."--David W. Blight, author of American Oracle: The Civil War in the Civil Rights Era
"With his great gift for stirring portraiture and historical narrative, David von Drehle takes us into the world of the Civil War and 1862 so convincingly that you almost wonder how it will all turn out."--Michael Beschloss, author of Presidential Courage