The Viking in the Wheat Field: A Scientist's Struggle to Preserve the World's Harvest (Hardcover)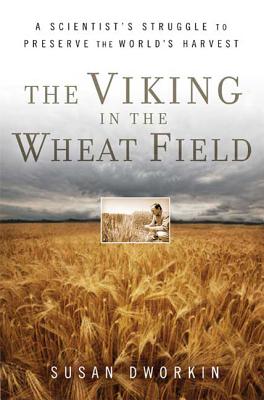 Please email or write store for pricing and availability information.
Special Request - May Not Be Available
Description
---
The gripping story of how Bent Skovmand and others preserved the world's wheat harvest.
In 1999, a terrifying new form of stem rust spotted in Uganda and dubbed "UG99" quickly turned robust golden fields into dark, tangled ruins. For decades plant scientists had bred wheat varieties with rust-resistant genes, but these genes did not work against UG99. Unchecked, UG99 could spread all over the world, including the United States.
Breeders everywhere began searching wheat germplasm collections for sources of resistance. The largest collection was at the Center for Improvement of Maize and Wheat (CIMMYT ) in Mexico, developed by the brilliant Danish scientist Bent Skovmand. For three decades, Skovmand amassed, multiplied, and documented thousands of wheat varieties. He served as an advisor on wheat genetic resources to dozens of countries, and hunted for seeds that would contain the genes to protect the harvest from plagues like UG99 and the stresses created by global warming. I n an era when corporations and governments often jealously guarded breeding information, Skovmand fought to keep his seed bank a center for free, open scientific exchange. By telling the story of Skovmand's work and that of his colleagues, "The Viking in the Wheat Field "sheds a welcome light on an agricultural sector "plant genetic resources" on which we are all crucially dependent.
About the Author
---
Susan Dworkin has written several biographies, including The Nazi Officer's Wife, and her articles have appeared in Ms., Cosmopolitan, and numerous magazines. Her fascination with agriculture dates from early stints at the United States Department of Agriculture and as a journalist covering aid programs in the Middle East. She lives in New York City.
Praise For…
---
"In vivid language, Dworkin presents Skovmand's legacy as ample reason for a new generation of genetic researchers to take the cause." —Kirkus Reviews
"Susan Dworkin has found a delightful way to tell the alarming story of the fragility of the global wheat crop. She leads us expertly and enthusiastically into Bent Skovmand's strange, infrequently penetrated domain of plant breeding and international seed banks, a world in which unsung scientists search and save exotic plant germplasm to protect the staffs of life against pests, plagues and corporate raiders. As the Viking himself warns in Dworkin's book, 'If the seeds disappear, so could your food. So could you.'"— Peter Pringle, author of Food Inc., Mendel to Monsanto--The Promises and Perils of the Biotech Harvest, and The Murder of Nikolai Vavilov
"Thanks to Bent Skovmand and scientists of his ilk, most of us take it for granted that there will be food on table when needed. The Viking in the Wheat Field is about the importance of protecting nature and its biodiversity, and improving the seeds available to us, so that 3 billion more people may eat 40 years from now."—Per Pinstrup-Andersen, H.E. Babcock Professor of Food, Nutrition and Public Policy at Cornell University
"An eye-opening look into the little-known world of gene banks and crop breeding, and a poignant reminder that the real guardians of our food security are not armies or transnational corporations, but a handful of tireless scientists who have labored for decades to keep us one step ahead of famine." — Rowan Jacobsen, author of Fruitless Fall: The Collapse of the Honey Bee and the Coming Agricultural Crisis
"Dworkin vividly portrays Skovmand and a remarkable group of similarly ardent plant protectors; crisply relates little-known yet compelling, frequently dicey tales of agricultural discovery and rescue; and explains with passion and acuity why it's so very important to preserve the planet's plant genetics." —Donna Seaman, Booklist