My Remarkable Uncle (New Canadian Library) (Paperback)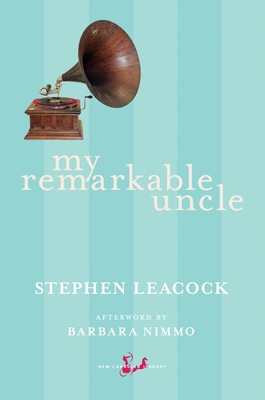 Please email or write store for pricing and availability information.
Special Request - May Not Be Available
Description
---
This celebrated collection of sketches sparkles with Stephen Leacock's humour and shines with the warmth of his wit. The comical E.P., star of the title essay, "My Remarkable Uncle," is a classic Leacock character. He is president of a railway with a letterhead but no rails, and he heads a bank that boasts credit but no cash whatsoever - all of which trouble E.P. not in the least. My Remarkable Uncle, a wonderful smorgasbord of mirth served up by a master of comedy, includes several essays, a short story, a political parable, and personal reflections on a dizzying array of subjects. Here, in rich abundance, are the inspired nonsense and the unerring eye for human folly that have made Stephen Leacock Canada's most celebrated humorist. From the Paperback edition.
About the Author
---
Stephen Leacock was born in Swanmore, Hampshire, England, in 1869. His family emigrated to Canada in 1876 and settled on a farm north of Toronto. Educated at Upper Canada College and the University of Toronto, Leacock pursued graduate studies in economics at the University of Chicago, where he studied under Thorstein Veblen. Even before he completed his doctorate, Leacock accepted a position as sessional lecturer in political science and economics at McGill University. When he received his Ph.D. in 1903, he was appointed to the position of lecturer. From 1908 until his retirement in 1936, he chaired the Department of Political Science and Economics. Leacock's most profitable book was his textbook, Elements of Political Science, which was translated into seventeen languages. The author of nineteen books and countless articles on economics, history, and political science, Leacock turned to the writing of humour as his beloved avocation. His first collection of comic stories, Literary Lapses, appeared in 1910, and from that time until his death he published a volume of humour almost every year. Leacock also wrote popular biographies of his two favourite writers, Mark Twain and Charles Dickens. At the time of his death, he left four completed chapters of what was to have been his autobiography. These were published posthumously under the title The Boy I Left Behind Me. Stephen Leacock died in Toronto, Ontario, in 1944. From the Paperback edition.