The Damage Done (Mass Market Paperback)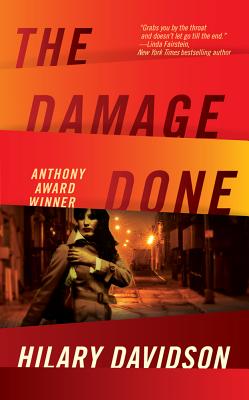 Please email or write store for pricing and availability information.
Special Request - May Not Be Available
Description
---
Winner of the Anthony Award for Best First Novel

Lily Moore fled to Spain to get away from her troubled, drug-addicted younger sister, Claudia. When Claudia is found dead in a bathtub on the anniversary of their mother's suicide, Lily must return to New York to deal with the aftermath.

The situation shifts from tragic to baffling when the body at the morgue turns out to be that of a stranger who had been using Claudia's identity. The real Claudia had vanished months earlier, reappearing briefly on the day the impostor died. As Claudia transforms from victim to suspect in the eyes of the police, Lily becomes determined to find her before they do.

Is Claudia actually missing or is she playing an elaborate con game? And who's responsible for the body in the tub? Determined to learn the truth at any cost, Lily is unprepared for the terrible toll it will take on her and those she loves.
About the Author
---
Hilary Davidson won the Anthony Award for Best First Novel for "The Damage Done." That book also earned a Crimespree Award and was a finalist for the Arthur Ellis and Macavity awards. Hilary's widely acclaimed short stories have been featured in publications from "Ellery Queen" to "Thuglit, " and in many anthologies. A Toronto-born travel journalist and the author of eighteen nonfiction books, she has lived in New York City since October 2001.
Praise For…
---
"Grabs you by the throat and doesn't let go till the end."
—Linda Fairstein, New York Times bestselling author

"[A] razor sharp mystery debut… Davidson offers a great portrait of sisterly love, despite a dysfunctional past, as well as a highly satisfying mystery."
—Publishers Weekly

"A tale of nonstop action with a nice final twist."
—Booklist

"An intriguing psychological mystery with a fully drawn protagonist who is surrounded by real characters who either care for her or who want her to fit their idea of who she should be. Readers will eagerly await Davidson's next book."
—Library Journal

"A sharp debut. Smart, dark, and complex, this mystery will keep you turning pages deep into the night. Ms. Davidson's talent is toe-to-toe with the great Laura Lippman. My favorite new voice in crime fiction."
—Allison Glasgow Robinson, Thuglit

"Sinking us into the noir New York of Sara Gran and Charlie Huston, The Damage Done delivers on all counts, offering both slow-burn suspense and creeping pathos. A rich, haunting debut."
—Megan Abbott, Edgar Award–winning author of Bury Me Deep

"Likeable characters, a good puzzle and an excellent sense of place. Hilary Davidson is one to watch."
—Margaret Cannon, The Globe & Mail

"Think Hitchcock writing for the hip Manhattan set. If Tess Gerritsen and Laura Lippman collaborated, you'd get a novel as fine as this. Startling and original."
—Ken Bruen, award-winning author of London Boulevard

"One of the best debuts I've read in years"
—Jon Jordan, Crimespree Magazine

"A polished, nuanced thriller driven by sharply drawn characters and haunted by betrayal and loss. Hilary Davidson's smart, worldly heroine confronts her own past as well as smooth villains and untrustworthy friends in an accomplished work that brilliantly balances the demands of tightly plotted noir with a compassionate exploration of family secrets and survivor's guilt. A superb debut."
—Dennis Tafoya, author of Dope Thief

"One doesn't have to be a crime-fiction enthusiast to appreciate the rapidly paced plot or well-developed characters. Davidson weaves together a murder mystery so complex, it'll have you asking 'whodunit?' right up until the last page."
—Suzanna Chang, University of Toronto Magazine

"A twisty, unsettling mystery that explores the nature of identity theft and identity itself. A provocative debut."
—Jane Stanton Hitchcock, New York Times bestselling author of Social Crimes

"Oh, what a deliciously tangled web of circumstances does author Hilary Davidson weave in her masterful debut, The Damage Done...it almost defies belief that this is Davidson's first novel."
—Elizabeth A. White, Savannah Morning News

"A sleek, savvy mystery that kept me turning pages and trying to figure out the beautifully constructed plot. Hilary Davidson's debut is a memorable one."
—Ed Gorman, award-winning author of The Poker Club