Kitty Goes to War (Kitty Norville #8) (Paperback)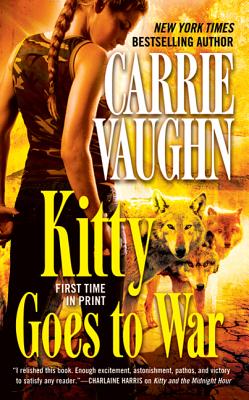 Please email or write store for pricing and availability information.
Special Request - May Not Be Available
Description
---
Kitty Norville, Alpha werewolf and host of The Midnight Hour, a radio call-in show, is contacted by a friend at the NIH's Center for the Study of Paranatural Biology. Three Army soldiers recently returned from the war in Afghanistan are being held at Ft. Carson in Colorado Springs. They're killer werewolves—and post traumatic stress has left them unable to control their shape-shifting and unable to interact with people. Kitty agrees to see them, hoping to help by bringing them into her pack.
Meanwhile, Kitty gets sued for libel by CEO Harold Franklin after featuring Speedy Mart--his nationwide chain of 24-hour convenience stores with a reputation for attracting supernatural unpleasantness--on her show.
Very bad weather is on the horizon.
About the Author
---
Carrie Vaughn is the New York Times bestselling author of the Kitty Norville books, including Kitty's Big Trouble, Kitty Goes to War, and Kitty and the Midnight Hour. She is also the author of the standalone novels After the Golden Age and Discord's Apple, and the young adult books Voice of Dragons and Steel. Vaughn had the nomadic childhood of the typical Air Force brat, with stops across the country from California to Florida. She earned her B.A. from Occidental College in Los Angeles, and a master's in English from the University of Colorado at Boulder. She has worked as a Renaissance Festival counter wench, a theater usher, an editor, a buyer at an independent bookstore, and an administrative assistant. She lives in Boulder, Colorado.
Praise For…
---
"I relished this book. Enough excitement, astonishment, pathos, and victory to satisfy any reader." —Charlaine Harris on Kitty and the Midnight Hour
"Engaging . . . funny . . . . Very entertaining." —The Denver Post on Kitty and the Midnight Hour
"Fresh, hip, fantastic!" —L.A. Banks on Kitty and the Midnight Hour
"Strong on characterization, Vaughn creates characters worth visiting time after time in this compelling world where vampires and werewolves have their own radio call-in show." —Booklist on Kitty Takes a Holiday
"Light romance, with elements of adventure and dark witchery. If this is the sort of light entertainment you're looking for, then Kitty Takes a Holiday will deliver the goods." —SF Site
"Not quite paranormal romance, not quite contemporary fantasy. Whatever label you care to apply, it's a pretty good romp." —Don D'Ammassa on Kitty and the Silver Bullet
"Carrie Vaughn is like Laurell K. Hamilton, only better. . . Nothing about her universe feels stale or worked over; if I didn't know better, I could easily assume she was alone in her field. . . . a gripping read." —The Accidental Bard on Kitty Raises Hell
"Leave it to Kitty Norville to take reality TV to a whole new gruesome level! Survival is the name of the game is Vaughn's fast-paced thriller, and the claustrophobic feel of this story is enhanced by Kitty's first-person viewpoint. It's nail-biting in the extreme." —RT Bookreviews on Kitty's House of Horrors