No One's the Bitch: A Ten-Step Plan for the Mother and Stepmother Relationship (Paperback)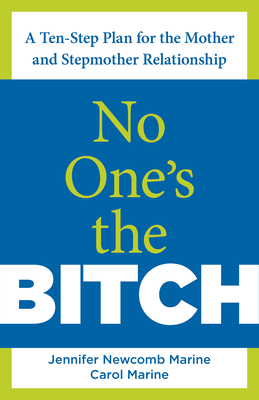 Please email or write store for pricing and availability information.
Special Request - May Not Be Available
Description
---
One of three Americans is today a stepparent, a stepchild, or a stepsibling. That means there are lots of stepmothers and ex-wives out there wrestling with resentment, jealousy, anxiety, anger, and despair over their relationship with the "other woman" in their life. That's where stepmother/ex-wife team extraordinaire Jennifer Newcomb Marine and Carol Marine step in. No One's the Bitch is their straight-talking, handholding walk through what is typically a very lonely minefield. Whether women just want to create a neutral, "business" partnership or actually, gulp, to become friends, this book shows them how to reach their goal through ten powerful steps, with chapter titles such as "Own Your Own Crap," "Collaborate," and "Communicate." The authors also recount their own journey, providing ample hope and reassurance to all women struggling to keep a blended family together.
About the Author
---
Jennifer Newcomb Marine (the ex-wife) is a freelance essayist and editor who was a former columnist for AustinMama.com, an award-winning website. Her work has been published in the anthology Grrl Talk: Wit, Sass and Wisdom from the Austin Writergrrls and in the Farfelu Literary Review. She has worked as a grant writer, business staff writer, and presented creativity workshops based on Eric Maisel's book Fearless Creating. She is the mother of two teenage daughters. Carol Marine (the stepmother) is a succesful oil-based artist who has had her work featured in both local and national magazines. She is represented by the Wally Workman Gallery in Austin and the Twinhouse Gallery in Atlanta. Her blog (http: //carolmarine.blogspot.com) generates over 1,000 hits a week. She has conducted workshops on painting techniques at a prestigious New Mexico art academy, and has upcoming workshops in New Mexico, Georgia, Florida, and Canada. She is the mother of a three-year-old son and stepmother to two teenage girls.
Praise For…
---
"A really interesting walkthrough; a ten-step plan that's well thought-out and experience-based...a giant step in resolving this problem"- Dr. Phil McGraw, on "The Dr. Phil Show" / December 1, 2009 Bitch is a worthy, energetic workbook . . . Chatty and funny, it provides useful ideas (e.g., make small offerings) and sound how-to (e.g., greet each other when the kids swap houses)." - Library Journal
"These straight-shooting, truth-talking, soul-baring women have their priorities right: When mom and stepmom are on the same page everyone wins, most especially the kids! If more parents could do as authors Jennifer and Carol have done, our courts would be far emptier, our kids would be far healthier and and all of our futures would be brighter!"- Benjamin D. Garber, Ph.D., www.healthyparent.com, author of Keeping Kids Out Of The Middle
"Finally! A must-read user's guide for every woman involved in a stepmother/ex-wife relationship. With humor, insight, and unflinching honesty, Jennifer and Carol take you through the process of making one of the the trickiest relationships in our culture infinitely easier. Leave the snarking behind!  This book will give you the tools to move on and glory in some newfound possibilities."--Katherine Shirek Doughtie, author of
Aphrodite in Jeans: Adventure Tales about Men, Midlife, and Motherhood