The Feminist Promise: 1792 to the Present (Hardcover)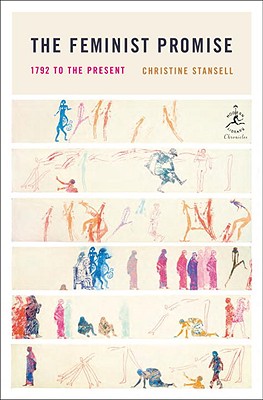 Please email or write store for pricing and availability information.
Special Request - May Not Be Available
Description
---
In this sweeping, definitive volume, Christine Stansell, one of the leading historians of her generation, tells the story of one of the great democratic movements of our times. 

For more than two centuries, the ranks of feminists have included dreamy idealists and conscientious reformers, erotic rebels and angry housewives, dazzling writers, shrewd political strategists, and thwarted workingwomen. Well-known leaders are sketched from new angles by Stansell, with her bracing eye for character: Mary Wollstonecraft, the passionate English writer who in 1792 published the first full-scale argument for the rights of women; Elizabeth Cady Stanton, brilliant and fearless; the imperious, quarrelsome Betty Friedan. But figures from other contexts, too, appear in an unforgettable new light, including Ruth Bader Ginsburg, who in the 1970s led a revolution in the constitutional interpretations of women's rights, and Toni Morrison, whose bittersweet prose gave voice to the modern black female experience.

Stansell accounts for the failures of feminism as well as the successes. She notes significant moments in the struggle for gender equality, such as the emergence in the early 1900s of the dashing "New Woman"; the passing of the Nineteenth Amendment, which granted women the right to vote; the post–World War II collapse of suburban neo-Victorianism; and the radical feminism of the 1960s—all of which led to vast changes in American culture and society. The Feminist Promise dramatically updates our understanding of feminism, taking the story through the age of Reagan and into the era of international feminist movements that have swept the globe. Stansell provocatively insists that the fight for women's rights in developing countries "cannot be separated from democracy's survival."
A soaring work unprecedented in scope, historical depth, and literary appeal, The Feminist Promise is bound to become an authoritative source on this essential subject for decades to come on. At once a work of scholarship, political observation, and personal reflection, it is a book that speaks to the demands and challenges—individual, national, and international—of the twenty-first century.
About the Author
---
Christine Stansell is the Stein-Freiler Distinguished Professor of History at the University of Chicago. Her previous books include "American Moderns: Bohemian New York and the Creation of a New Century" and "City of Women: Sex and Class in New York 1789-1860." She writes widely about matters of feminism and American history in print and online, including for "The New Republic, Salon, " and "The Daily Beast." Among other awards, Stansell has received a John Simon Guggenheim Foundation Fellowship. She has been a fellow at the Institute for Advanced Study in Princeton, New Jersey, and the Mary Bunting Fellow at the Radcliffe Institute for Advanced Study.
Praise For…
---
"A landmark book from a brilliant and insightful historian. Stansell brings pioneering feminist thinkers like Mary Wollstonecraft thrillingly alive and places contemporary American women activists in the contexts of two centuries of feminist argument. Assured, ambitious, and stirring, The Feminist Promise delivers the authoritative intellectual history needed to ground and launch a new era of global women's emancipation." —Elaine Showalter, Professor Emeritus of English, Princeton University, and author of A Jury of Her Peers: American Women Writers from Anne Bradstreet to Annie Proulx

"A landmark book from a brilliant and insightful historian. Stansell brings pioneering feminist thinkers like Mary Wollstonecraft thrillingly alive and places contemporary American women activists in the contexts of two centuries of feminist argument. Assured, ambitious, and stirring, The Feminist Promise delivers the authoritative intellectual history needed to ground and launch a new era of global women's emancipation." —Elaine Showalter, Professor Emeritus of English, Princeton University, and author of A Jury of Her Peers: American Women Writers from Anne Bradstreet to Annie Proulx

"It's all here—over two hundred years of history, down to the perplexities of the present day, in which a feminist might be an Afghan teenager fighting for an education, or an American lawyer wondering how she ended up as a stay-home mother. The Feminist Promise is women's history for the 21st century—a magnificent and compelling work."—Katha Pollitt, author of The Mind-Body Problem

"Christine Stansell's The Feminist Promise is a landmark in women's history—a remarkable and thoughtful narrative of the many movements and struggles that have shaped the lives of American women (and men) over two centuries and into our own time. "—Alan Brinkley, Allan Nevins Professor of American History, Columbia University


"Christine Stansell's The Feminist Promise is a unique, elegant, learned sweep through more than two centuries of women's efforts to overcome the most fundamental way that human beings have been wrongly divided into the leaders and the lead. It's full of surprises from the past and guiding lights for the future."—Gloria Steinem