Oscar and Lucinda (Abridged / Audio Cassette, Abridged)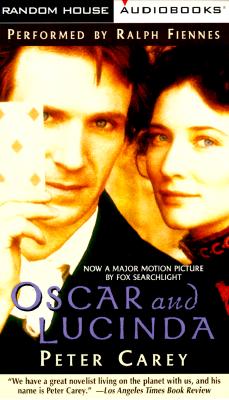 Please email or write store for pricing and availability information.
Special Request - May Not Be Available
Description
---
Academy Award nominee Ralph Fiennes who stars in the epic romance Oscar and Lucinda, masterfully reads Peter Carey's Booker Prize-winning novel.    



This sweeping, irrepressibly inventive novel, is a romance of the sort that could only take place in 19th-century Australia.  For only on that sprawling continent, a haven for misfits of both the animal and human kingdoms, could a nervous Anglican minister who gambles on the instructions of the Divine becomes allied with a teenaged heiress who buys a glassworks to help liberate her sex.  And only the prodigious imagination of Peter Carey could implicate Oscar and Lucinda in a narrative of love and commerce, religion and colonialism that culminates in a demented scheme to transport a glass church across the Outback.    



The Random House AudioBook includes an excerpt from the original soundtrack by Thomas Newman.  Exclusively on Sony Classical.
About the Author
---
About the reader:

Ralph Fiennes stars as Oscar in Gillian Armstrong's film of "Oscar and Lucinda." He has received Academy Award nominations for his chilling performances in "Schindler's List" as the Nazi commander, and in the epic romance "The English Patient." On stage, his "Hamlet" earned him a Tony Award as Best Actor.

About the author:

Peter Carey was born in 1943, in Bacchus Marsh, Australia, and was educated at Geelong Grammar School. He is the author of a short-story collection, "The Fat Man in History," and of the novels "Bliss," "Illywhacker," "The Unusual Life of Tristan Smith," "The Tax Inspector," and "Jack Maggs," which will be published by Alfred A. Knopf in February, 1998. He lives in New York City with his wife and two sons.