Buying Gift Cards is easy! Simply hover over 'SHOP', select 'Gift Cards', and complete your details.
Free shipping over $75.00 on all Media Mail eligible orders.
A Nation of Counterfeiters: Capitalists, Con Men, and the Making of the United States (Paperback)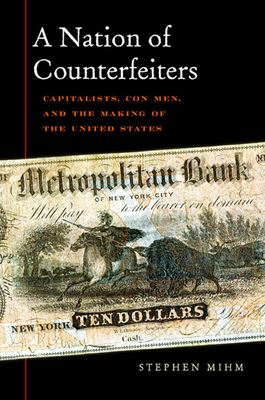 Email or call for price. Handling fee may apply.
Available to Order - Usually Arrives in Our Store in 4 to 7 Days
Description
---
Listen to a short interview with Stephen MihmHost: Chris Gondek Producer: Heron & Crane
Few of us question the slips of green paper that come and go in our purses, pockets, and wallets. Yet confidence in the money supply is a recent phenomenon: prior to the Civil War, the United States did not have a single, national currency. Instead, countless banks issued paper money in a bewildering variety of denominations and designs--more than ten thousand different kinds by 1860. Counterfeiters flourished amid this anarchy, putting vast quantities of bogus bills into circulation. Their success, Stephen Mihm reveals, is more than an entertaining tale of criminal enterprise: it is the story of the rise of a country defined by a freewheeling brand of capitalism over which the federal government exercised little control. It was an era when responsibility for the country's currency remained in the hands of capitalists for whom making money was as much a literal as a figurative undertaking. Mihm's witty tale brims with colorful characters: shady bankers, corrupt cops, charismatic criminals, and brilliant engravers. Based on prodigious research, it ranges far and wide, from New York City's criminal underworld to the gold fields of California and the battlefields of the Civil War. We learn how the federal government issued greenbacks for the first time and began dismantling the older monetary system and the counterfeit economy it sustained.
A Nation of Counterfeiters
is a trailblazing work of history, one that casts the country's capitalist roots in a startling new light. Readers will recognize the same get-rich-quick spirit that lives on in the speculative bubbles and confidence games of the twenty-first century.