Kind of Cruel (Hardcover)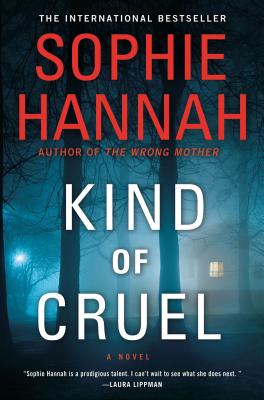 Please email or write store for pricing and availability information.
Special Request - May Not Be Available
Description
---
Kind, cruel, kind of cruel. Amber thinks it's just nonsense, a side effect of being hypnotized for the first time. But when she's arrested for a brutal murder two hours later, those four words are the key to clearing her name if only she could remember where she d seen them.
Amber Hewerdine suffers from chronic insomnia. As a last resort, she visits a hypnotherapist, doubtful that anything will really change. Under hypnosis, Amber hears herself saying, Kind, cruel, kind of cruel. The words awaken a vague memory, but she dismisses the whole episode as nonsense. Two hours later, however, Amber is arrested for the brutal murder of a woman she's never heard of, and the only way she can clear her name is by remembering exactly where she's seen those words.
"
Kind of Cruel" is the latest page-turner in Hannah's Zailer and Waterhouse mystery series, and will enthrall Hannah's ever-growing readership.
About the Author
---
Sophie Hannah is the bestselling author of eight novels and is also an award-winning poet. Her new Hercule Poirot mystery, the first to be sanctioned by the Agatha Christie estate, will be published in September 2014. She lives in Cambridge, England, with her husband and two children, and is a Fellow Commoner at Lucy Cavendish College.
Praise For…
---
Praise for Kind of Cruel

"Kind of Cruel is meticulously constructed, its characters are memorable, and its tone delicately balances the book's deadly serious (and not for the faint of heart) storyline against some unexpected humor." – The Seattle Times

"Calling this plot serpentine doesn't do it justice." – The Toronto Star

"Hannah spins a dark tale of a woman haunted by subconscious memories." – Library Journal

"Addictive" – PW 

"This is [a] brilliantly executed psychological suspense with a complex plot brought to a horribly logical conclusion." – Booklist (starred review)

"Kind of Cruel is a top-notch psychological thriller that will provide many sleepless nights of reading for those who venture in." – Bookreporter

"Nearly impossible to unravel until its final pages, Hannah's intricate, multi-voice narrative explores the elusive, malleable nature of memory as played out in a baffling criminal investigation involving some odd remembered words and the brutal death of a stranger." – Brooklyn Daily Eagle

"An exploration of memory and the way trauma lives on in the present. Cool, calculating and utterly chilling, Kind of Cruel is another compulsive book from Hannah, to be gulped down with all the lights on and someone to grab when the sense of menace grows too great." – The Observer (London)
   
"[Hannah] has outdone herself with Kind Of Cruel…Her trademark precision-layered structure creates a multi-dimensional maze that holds at its centre a revelation which is truly hair-raising, even by Hannah's standards." – Independent on Sunday (London)

"An audacious puzzle of a novel that is impossible to second guess. There are clues on virtually every page but only when you reach the final chapter does it become apparent how they slot together….Crime novels are often dismissed in literary circles for not being literary enough. Yet Kind Of Cruel is exactly the intelligent, reflective and stunningly written novel that has "literary" critics swooning and judging panels lining up to reward. The fact that it has a police investigation at its heart is a plus, not a minus, and makes for one hell of a journey." – Sunday Express (London)

Praise for Sophie Hannah

"This is a dark exploration of the intricacies of control and desire, and what can happen when they turn horribly warped. This may be Sophie Hannah's best book yet." – Tana French, bestselling author of In The Woods and Broken Harbor

"Sophie Hannah is a prodigious talent. I can't wait to see what she does next." – Laura Lippman, author of The Most Dangerous Thing

"Hannah, who understands psychological mayhem as well as Ruth Rendell and maybe even Sigmund Freud, is best read with a crisis counselor on speed-dial. The tight plotting and excruciatingly precise clues make for a superlatively uneasy read." — Kirkus

"Hannah takes domestic scenarios, adds disquieting touches and turns up the suspense until you're checking under the bed for murderers . . . it's this real-life research that helps make it so convincing - and so unsettling." —The Independent
 
"Meticulously plotted . . . so dark and shocking." —Associated Press

"This utterly gripping thriller should establish Hannah as one of the great unmissables of this genre—intelligent, classy and with a wonderfully Gothic imagination." —The Times (London)

 "The power this novel packs derives from narrators that play fast and loose with what they know. . . . The solution is a stunner." —The Boston Globe

"Sophie Hannah has quickly established herself as a doyenne of the 'home horror' school of psychological tension, taking domestic situations and wringing from them dark, gothic thrills."  —Financial Times (UK)

"A master of intricate plotting, Hannah seamlessly melds the police procedural with a gothic-inspired whodunit." —Publishers Weekly (starred review)

 "Sophie Hannah has been rightly praised for intricate and accomplished psychological thrillers which dissect the dark side of human relationships."  —The Guardian (London)