Last Breath: Cautionary Tales from the Limits of Human Endurance (Compact Disc)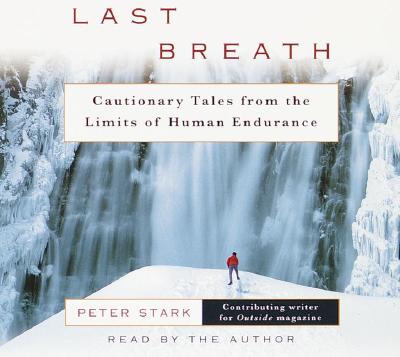 Please email or write store for pricing and availability information.
Special Request - May Not Be Available
Description
---
Read by
Five CD's

A fascinating blend of adventure and science, LAST BREATH recreates in heart-stopping detail what happens to our bodies and minds in the perilous last moments of life when an extreme adventure goes awry.

With a growing number of people setting out to climb snow-capped mountains, swim choppy seas, and hike through dark, dense jungles, extreme deaths and brushes with death seem to have become everyday occurences. A compelling synthesis of science, history, possibility, and prevention, LAST BREATH examines the physiological, psychological, and emotional stages our bodies and minds endure at the brink of death. Listeners will shiver with a man lost in snowy woods, suffering from
hypthermia, as he tears off his clothes, burning up from cold. They will hallucinate with a young woman as she succumbs to a cerebral edema stranded at the top of Anapurna. And while a kayaker tumbles helpless underwater for 2 minutes, 5 minutes, 10 minutes, listeners too will gasp for their last breath.
Praise For…
---
"Un-put-downable stories of outdoor catastrophe and death, carefully and vividly told; they make us, unexpectedly, happy to be alive."
--Ian Frazier

"Peter Stark tells us to 'step beyond the self.' But, not too far beyond, into oblivion. If you've ever wondered just where that edge might be, physically, read Last Breath. It's thick with specific information, and with vividly rendered, often hair-raising stories--both useful and entertaining, a compelling read for those interested in testing their limits, and a sport and pastime for those of us who sort of aren't."
--William Kittredge

"Death comes to us all. Last Breath introduces us to the people who tempt fate and experience their final expiration. We witness their intimate encounters with death from multiple angles. Stark's craft as a storyteller blends physiology, ecology, physics, psychology, and metaphysics into a compelling read. Last Breath is a page-turner!"
--Ira Byock, M.D.
Author of Dying Well

"Forget the edge of your seat. Last Breath takes you to the edge of your life, for a pulse-pounding glimpse into the Great Beyond. There are many ways to risk your life in the out-of-doors, and Stark has captured them in exquisite and harrowing detail."
--Jim Robbins
Author of A Symphony in the Brain:
The Evolution of the New Brain Wave Biofeedback