Final Gifts: Understanding the Special Awareness, Needs, and Communications of the Dying (Paperback)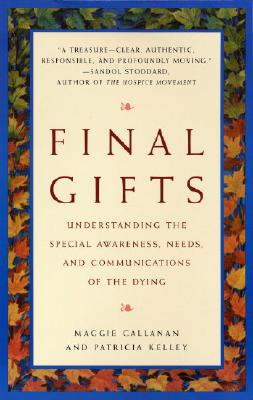 Please email or write store for pricing and availability information.
Special Request - May Not Be Available
Description
---
Five years after its first publication, with more than 150,000 copies in print, Final Gifts has become a classic. In this moving and compassionate book, hospice nurses Maggie Callanan and Patricia Kelley share their intimate experiences with patients at the end of life, drawn from more than twenty years experience tending the terminally ill.

Through their stories we come to appreciate the near-miraculous ways in which the dying communicate their needs, reveal their feelings, and even choreograph their own final moments; we also discover the gifts—of wisdom, faith, and love—that the dying leave for the living to share.

Filled with practical advice on responding to the requests of the dying and helping them prepare emotionally and spiritually for death, Final Gifts shows how we can help the dying person live fully to the very end.
About the Author
---
Maggie Callanan, R.N., has specialized in the care of the dying since 1981. She lectures widely to lay and professional audiences on death and dying, bereavement, and hospice care. Maggie is the author of Final Journeys and co-author of Final Gifts. She lives on the New England coast.

Patricia Kelley has worked in hospice care since 1978. She formerly held positions as Clinical Director of Montgomery Hospice in Maryland and as Director of Health Systems Leadership at the National Hospice and Palliative Care Organization. She now works as a national and international consultant providing education and training on issues relating to hospice and palliative care. Patricia is also the author of "Companion to Grief: Finding Consolation When Someone You Love Has Died."
Praise For…
---
"A treasure–clear, authentic, responsible, and profoundly moving." —Sandol Stoddard, author of The Hospice Movement

"Beautifully written, illuminating and reassuring…Final Gifts is truly a gift to us all." —Judy Tatelbaum, author of The Courage to Grieve

"These richly told stories enable us to respond to the dying in new and authentic ways." —Ira R. Byock, M.D., author of Dying Well: The Prospect for Growth at the End of Life

"Impressive insights into the experience of dying, offered by two hospice nurses with a gift for listening…They offer practical advice not only to involved family members but also to professional caregivers on how to recognize, understand, and respond to a dying person's messages." —Kirkus Reviews

"A hopeful, helpful work…provides a gentle way to think about the unthinkable."—Publishers Weekly

"A treasure…'must' reading for anyone working with the dying, or living with a dying person or life-threatening illness, or thinking about the process."—Vital Signs

"Maggie Callanan and Patricia Kelley have garnered a wisdom and sensitivity, and cultivated a keen observation that only the dying could teach."—Sunrise

"Insightful. Final Gifts is a significant contribution. Experienced hospice nurses Maggie Callanan and Patricia Kelley shed important light on human experience at the end of life. I highly recommend this helpful book to all who care for the dying."—Dr. Balfour Mount, Professor of Palliative Medicine, McGill University

"Irrespective of belief system, age or diagnosis of the dying person, Final Gifts conveys the awe and profundity of the moments surrounding death that we all feel." —Madalon Amenta, R.N., M.D., Public Health Editor of The Hospice Journal