The Autistic Brain: Thinking Across the Spectrum (Hardcover)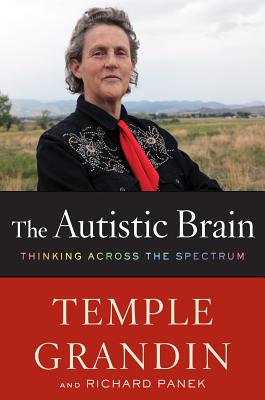 Please email or write store for pricing and availability information.
Special Request - May Not Be Available
Description
---
A cutting-edge account of the latest science of autism, from the best-selling author and advocate
When Temple Grandin was born in 1947, autism had only just been named. Today it is more prevalent than ever, with one in 88 children diagnosed on the spectrum. And our thinking about it has undergone a transformation in her lifetime: Autism studies have moved from the realm of psychology to neurology and genetics, and there is far more hope today than ever before thanks to groundbreaking new research into causes and treatments. Now Temple Grandin reports from the forefront of autism science, bringing her singular perspective to a thrilling journey into the heart of the autism revolution.
Weaving her own experience with remarkable new discoveries, Grandin introduces the neuroimaging advances and genetic research that link brain science to behavior, even sharing her own brain scan to show us which anomalies might explain common symptoms. We meet the scientists and self-advocates who are exploring innovative theories of what causes autism and how we can diagnose and best treat it. Grandin also highlights long-ignored sensory problems and the transformative effects we can have by treating autism symptom by symptom, rather than with an umbrella diagnosis. Most exciting, she argues that raising and educating kids on the spectrum isn't just a matter of focusing on their weaknesses; in the science that reveals their long-overlooked strengths she shows us new ways to foster their unique contributions. From the "aspies" in Silicon Valley to the five-year-old without language, Grandin understands the true meaning of the word spectrum. The Autistic Brain is essential reading from the most respected and beloved voices in the field.
About the Author
---
TEMPLE GRANDIN is one of the world's most accomplished and well-known adults with autism. She is a professor at Colorado State University and the author of several best-selling books, which have sold more than a million copies. The HBO movie based on her life, starring Claire Danes, received seven Emmy Awards.RICHARD PANEK is the prize-winning author of The 4% Universe and the recipient of a Guggenheim Fellowship in Science Writing.
Praise For…
---
"In The Autistic Brain, Grandin explains what she's learned in recent years about her brain and the brains of others with autism." -- USA Today
"Grandin has reached a stunning level of sophistication about herself and the science of autism. Her observations will assist not only fellow autistics and families with affected members, but also researchers and physicians seeking to better understand the condition." -- Dr. Jerome Groopman, New York Review of Books
"Her most insightful work to date. . . . The Autistic Brain is something anyone could benefit from reading, and I recommend it to anyone with a personal or professional connection to autism or neurological difference." -- John Elder Robison, author of Look Me in the Eye
"Autism is a spectrum, and Temple is on one edge. Living on this edge has allowed her to be an extraordinary source of inspiration for autistic children, their parents—and all people." —Time
"Grandin, whose life has been an inspiration to millions, warns parents, teachers and therapists of the danger of getting locked into diagnostic labels...An illuminating look at how neuroscience opens a window into the mind." —Kirkus
"An important and ultimately optimistic work." —Booklist
"Grandin effectively makes her case that people with autism have individual differences, and that those who work with them should focus on these differences rather than consider their charges as part of a group with like symptoms. This work is highly recommended for anyone who knows or works with people on the spectrum." —Library Journal