Pearl Harbor: FDR Leads the Nation Into War (Paperback)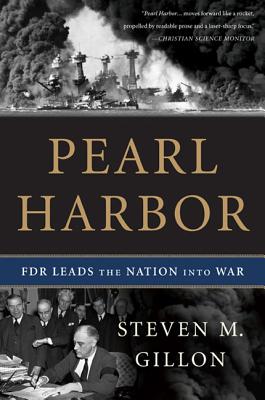 Please email or write store for pricing and availability information.
Special Request - May Not Be Available
Description
---
Franklin D. Roosevelt famously called December 7, 1941, "a date which will live in infamy." History would prove him correct; the events of that day—when the Japanese bombed Pearl Harbor—ended the Great Depression, changed the course of FDR's presidency, and swept America into World War II. In
Pearl Harbor
, acclaimed historian Steven M. Gillon provides a vivid, minute-by-minute account of Roosevelt's skillful leadership in the wake of the most devastating military assault in American history. FDR proved both decisive and deceptive, inspiring the nation while keeping the real facts of the attack a secret from congressional leaders and the public.
Pearl Harbor explores the anxious and emotional events surrounding the attack on Pearl Harbor, showing how the president and the American public responded in the pivotal twenty-four hours that followed, a period in which America burst from precarious peace into total war.
About the Author
---
Steven M. Gillon earned his Ph.D. at Brown, taught for several years at Yale and Oxford, and is now Professor of History at the University of Oklahoma, as well as Resident Historian for The History Channel. He is the author of numerous books and articles on modern American history and politics, including The Kennedy Assassination—24 Hours After and Ten Days That Unexpectedly Changed America.

Praise For…
---
William E. Leuchtenburg, author of In the Shadow of FDR: From Harry Truman to Barack Obama
"A remarkably gifted writer, Steven Gillon holds the reader spellbound in his vivid account of the hours following the surprise assault on America's Pacific naval base. He is no less compelling in his riveting revelations of Franklin D. Roosevelt's response. They give us a fresh appreciation of the dexterity, creativity, and wiliness of FDR."
David B. Woolner, Senior Fellow and Hyde Park Resident Historian, Franklin and Eleanor Roosevelt Institute, and Associate Professor of History, Marist College
"In this fascinating account of the first 24 hours after the Japanese attack on Pearl Harbor, Steven Gillon manages to capture not only the essence of perhaps the most critical day in twentieth century American history; but also the essence of the man who stood at the center of it all—Franklin D. Roosevelt. A brilliant piece of investigative history,
Pearl Harbor
tells us a great deal about the character of the President who, though unable to walk unaided, brought the United States safely through the two great crises of the modern era, the Great Depression and World War Two. This is a must read for anyone who wishes to gain a complete understanding of FDR and the nation he led."
James T. Patterson, Professor of History, Emeritus, Brown University
"Pearl Harbor is a first-rate book by a fine historian. Steven Gillon, closely describing FDR's reactions to the Japanese attack, reminds us of the shrewdness and skill of Roosevelt's leadership. Both erudite and fast-paced, this is a book for scholars and general readers alike."

Robert Dallek, Presidential Historian
"Steve Gillon's Pearl Harbor is a masterful account of how Franklin Roosevelt responded to one of the greatest crises in American history. Gillon's compelling narrative provides a fresh look at a seminal event and reminds us of why FDR enjoys standing as one of the country's greatest presidents."
 
Tony Badger, Paul Mellon Professor of American History, Cambridge University "In this compelling account of the day that will live in infamy, Steven Gillon brilliantly evokes the peaceable White House and unprepared nation that were thrown into chaos and confusion on 7 December 1941. Gillon highlights the 'deadly calm' with which Franklin D. Roosevelt responded to one of the most significant events of the twentieth century and set the United States on course to be a military and economic superpower."
 

Neal Gabler, Senior Fellow, Lear Center, USC
"In Pearl Harbor Steve Gillon combines impeccable research and historical authority with a narrative so gripping that the book reads like a thriller. This blow-by-blow account of the first 24 hours after the surprise attack on Pearl Harbor presents not only a new and detailed version of the reaction to the event but also a new and up-close vision of FDR's leadership."

Kirkus Reviews
"Gillon paints a vivid picture.... An excellent introduction to Roosevelt and his times with heavy emphasis on events surrounding Pearl Harbor."

Tucson Citizen
"Fast paced as any novel, Gillon provides readers with a dramatic examination of this crucial juncture in our history."

Booklist
"An engrossing and highly informative chronicle of crisis management at a decisive moment in history."

Oregonian
"[Gillon] provides a concise and informative account of Franklin Roosevelt's initial response to the crisis."

St. Louis Post-Dispatch
"'Pearl Harbor' makes a strong case that Roosevelt shared in the shock all Americans felt.... Fascinating."

Randy Roberts, author of A Team for America: The Army-Navy Game that Rallied a Nation
"Steve Gillon begins his dramatic tale after the final bombs exploded on December 7, 1941. As President Roosevelt gathered information, he began preparing for his greatest moment, when with one speech he would have to unify the Americans and take them into war.  We know what happened. But as Gillon demonstrates, we don't know the whole story. In a book that reads like the best fictional political thriller, he takes the reader on a minute-by-minute, hour-by-hour hell of a ride."

Jay Winik, author of April 1865 and The Great Upheaval
"Pearl Harbor is a heart-stopping, harrowing account of one of the most fateful days in America's history. With great verve, Steve Gillon has written a superb book, one that is at once fresh, compelling and fascinating. It should proudly stand on the bookshelf for all World War II buffs and scholars."