The Red Tree (Paperback)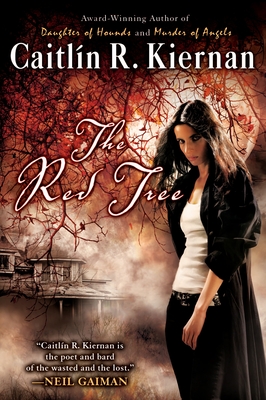 Please email or write store for pricing and availability information.
Special Request - May Not Be Available
Description
---
Sarah Crowe left Atlanta—and the remnants of a tumultuous relationship—to live in an old house in rural Rhode Island. Within its walls she discovers an unfinished manuscript written by the house's former tenant—an anthropologist obsessed with the ancient oak growing on a desolate corner of the property.
 
Tied to local legends of supernatural magic, as well as documented accidents and murders, the gnarled tree takes root in Sarah's imagination, prompting her to write her own account of its unsavory history.  
 
And as the oak continues to possess her dreams and nearly almost all her waking thoughts, Sarah risks her health and her sanity to unearth a revelation planted centuries ago…
About the Author
---
Caitlin R. Kiernan is the author of nine novels, including Silk, Threshold, Low Red Moon, Murder of Angels, Daughter of Hounds, and The Red Tree. Her award-winning short fiction has been collected in six volumes, including Tales of Pain and Wonder; To Charles Fort, With Love; Alabaster; and, most recently, A is for Alien. She has also published two volumes of erotica, Frog Toes and Tentacles and Tales from the Woeful Platypus. Trained as a vertebrate paleontologist, she currently lives in Providence, Rhode Island.
Praise For…
---
"[Caitlín Kiernan has] a gift for language that borders on the scary. Deeply, wonderfully, magnificently nasty."—Neil Gaiman

"Kiernan's chiller provides a strange and vastly compelling take on a New England haunting, and captures its spirit unnervingly well."—Booklist

"[Kiernan's] most personal, ambitious, and accomplished work yet."—Locus

"A suspenseful tale that feeds the imagination and blurs the line of reality." —Darque Reviews

"With its intelligent blend of folklore, horror, and dark fantasy, Kiernan's latest appeals well beyond urban fantasy fans."—Library Journal
 
"Dark-fantasy specialist Kiernan delivers a creepy and engaging tale…Horror fans will recognize the familiar Lovecraftian gothic-horror elements—indeed, Lovecraft, Poe, and other writers are explicitly referenced in the text—but Kiernan's prose is thoroughly modern…She ably keeps the proceedings from developing into formula, and her portrayals of Sarah's growing obsession, and the violence surrounding the tree, are evocative and chilling. A multileveled novel that will appeal to fans of classic and modern horror."—Kirkus Reviews

"Kiernan's dark tale blurs the lines between illusion and reality in this multilayered novel. The characters are complex and deeply flawed, and the beautiful and uninhibited prose easily evokes the dread they experience."—Romantic Times
 
"Kiernan does a great job of evoking the terror of not knowing what is real and what is imagined…a layered, atmospheric tale."—Fantasy Literature
 
"[Kiernan] still remains the only author who manages to truly evoke [Lovecraft] sensations of dread while at the same time managing to do so in a voice entirely her own."—King of the Nerds