Voices of the Pacific: Untold Stories from the Marine Heroes of World War II (Hardcover)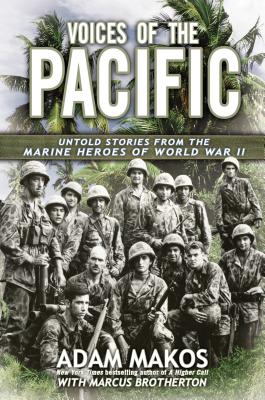 Please email or write store for pricing and availability information.
Special Request - May Not Be Available
Description
---
These are the stories from fifteen WWII Marines, compiled by Adam Makos and Marcus Brotherton but left unfiltered and in the words of the Marines who were there. Unflinching, brutal, and relentless, " Voices of the Pacific" will leave a reader gasping for air and dumbstruck in awe of the old heroes who won the Pacific war with bare hands, bayonets, and guts.
The book presents accounts of heroism and honor as told by World War II veterans Sid Phillips, R.V. Burgin, and Chuck Tatum--whose exploits were featured in the HBO mini-series" The Pacific"--and their Marine buddies from the legendary 1st Marine Division.
These Marines trace the action from the Pearl Harbor attack and intense boot camp training through battles with the Japanese on Guadalcanal, Cape Gloucester, Peleliu, and Okinawa, to their return home after V-J Day. With unflinching honesty, these men reveal harrowing accounts of combat with an implacable enemy, the friendships and camaraderie they found--and lost--and the aftermath of the war's impact on their lives.
With unprecedented access to the veterans, never-before-seen photographs, and unpublished memoirs, Makos and Brotherton have forged "Voices of the Pacific" into an incredible historic record of American bravery and sacrifice.
About the Author
---
Adam Makos is a journalist, historian, and editor of the military magazine, Valor. In his fifteen years of work in the military field, Makos has interviewed countless veterans from WWII, Korea, Vietnam, and present-day wars. He has flown a B-17 bomber, a T-38 fighter with the Air Force, and was one of the few journalists privileged to examine Air Force One with its pilots. In pursuit of a story, Makos has met with Presidents, had tea with Prince Charles, and toured the DMZ border in Korea with American troops. The high point of his work occurred in 2008, when Makos traveled to Iraq to accompany the 101st Airborne and Army Special Forces on their hunt for Al Qaeda terrorists. He is also the coauthor of the "New York Times" bestseller "A Higher Call."

Marcus Brotherton is a journalist and professional writer known internationally for his literary collaborations with high-profile public figures, humanitarians, inspirational leaders, and military personnel. He has authored or co-authored more than twenty-five books including "We Who Are Alive and Remain," "A Company of Heroes," and "Shifty's War," and is the co-author of "Call of Duty "with Lt. Buck Compton.
Praise For…
---
"These are the true—and terrifying—stories of combat Marines struggling against a fanatical enemy on the far-flung islands of the Pacific. A powerful new book."—Dale Dye, military advisor for Band of Brothers and The Pacific

"A fantastic, deeply moving collection of stories told by the men who were actually there."—Alex Kershaw, New York Times bestselling author of The Liberator

"Imagine a last conversation with your father or grandfather who fought in WWII, only this time he tells you the stories he always held back. That's Voices of the Pacific."—Larry Alexander, New York Times bestselling author of Biggest Brother

"Like a Higgins landing craft, Voices of the Pacific rumbles to our literary shores without pretense to deliver first-person accounts of war with the same gut-level realism as the opening scene in Saving Private Ryan."—Bob Welch, author of Resolve

"An impressive array of personal stories from the nightmarish fights on islands such as Guadalcanal, Peleliu, and Iwo Jima, all delivered in a simple, poignant narrative that readers will adore."—Ian Gardner, author of Tonight We Die As Men

"Our nation owes a great debt to a small few, such as the Marines in Voices of the Pacific. They not only saved a nation. They saved the world."—Colin D. Heaton, coauthor of Noble Warrior "Reading Voices of the Pacific is like listening in on a conversation between war buddies at a reunion—honest, unsanitized, and deeply humbling."—Justin Taylan, historian, founder of Pacific Wrecks