The Shape of the Eye: A Memoir (Paperback)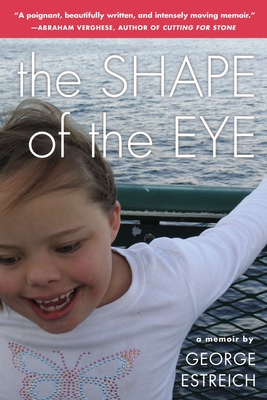 Please email or write store for pricing and availability information.
Special Request - May Not Be Available
Description
---
" An] elegantly written, unsentimental memoir."--PEOPLE MAGAZINE PEOPLE's Pick of the Week]
Winner of the 2014 Nautilus Award represents "Better Books for a Better World"--the Silver Award in the category of Parenting /Family. When Laura Estreich is born, her appearance presents a puzzle: does the shape of her eyes indicate Down syndrome, or the fact that she has a Japanese grandmother? In this powerful memoir, George Estreich, a poet and stay-at-home dad, tells his daughter's story, reflecting on her inheritance --- from the literal legacy of her genes, to the family history that precedes her, to the Victorian physician John Langdon Down's diagnostic error of "Mongolian idiocy." Against this backdrop, Laura takes her place in the Estreich family as a unique child, quirky and real, loved for everything ordinary and extraordinary about her. "In this wise and moving memoir, George Estreich tells the story of his family as his younger daughter is diagnosed with Down syndrome and they are thrust into an unfamiliar world. Estreich writes with a poet's eye and gift of language, weaving this personal journey into the larger history of his family, exploring the deep and often hidden connections between the past and the present. Engaging and unsentimental,
The Shape of the Eye
taught me a great deal. It is a story I found myself thinking about long after I'd finished the final pages." --
Kim Edwards, author of The Memory Keeper's Daughter
"A poignant, beautifully written, and intensely moving memoir" --
Abraham Verghese, author of Cutting for Stone
"The Shape of the Eye is a memoir of a father's love for his daughter, his struggle to understand her disability, and his journey toward embracing her power and depth. Estreich is raw and honest and draws us each into a new view of what it means to be 'human' and what it means to be 'different.' This book is beautifully written, poetically insightful, and personally transformative. To read it is to rethink everything and to be happy because of the journey." --Timothy P. Shriver, Ph.D., Chairman & CEO of the Special Olympics
"
The Shape of the Eye
personalizes Down syndrome, bringing a condition abstracted in the medical literature into the full dimensionality of one family's life. It's brave of George Estreich to make what has befallen his family so public, trusting of him to let an unknown audience second-guess the family's choices. Because he's opened his home and heart in this memoir, we are privileged to witness in chaotic, heart-wrenching, joyous detail what it means to have and to love a child with Down syndrome." --
Marcia Childress, Associate Professor of Medical Education (Medical Humanities), University of Virginia School of Medicine
About the Author
---
George Estreich's collection of poems, Textbook Illustrations of the Human Body, won the Gorsline Prize and was published in 2004. A woodworker, fly-fisherman, and guitar player, he has taught composition, creative writing, and literature at several universities. He lives in Cornvallis, Oregon, with his wife Theresa, a research scientist, and his two daughters, Ellie and Laura.
Praise For…
---
  "FOUR STARS!  [An] elegantly written, unsentimental memoir."—PEOPLE MAGAZINE [PEOPLE's Pick of the Week]

"A poignant, beautifully written, and intensely moving memoir"—Abraham Verghese, author of Cutting for Stone   "In this wise and moving memoir, George Estreich tells the story of his family as his younger daughter is diagnosed with Down syndrome and they are thrust into an unfamiliar world. Estreich writes with a poet's eye and gift of language, weaving this personal journey into the larger history of his family, exploring the deep and often hidden connections between the past and the present. Engaging and unsentimental, The Shape of the Eye taught me a great deal. It is a story I found myself thinking about long after I'd finished the final pages."—Kim Edwards, author of The Memory Keeper's Daughter

"An elegantly written, luminous, and profoundly human portrait of pain and sorrow, hope and cautious optimism." – Booklist [starred review]

"The moving, heartbreakingly lucid story about how a family learned to cope with, and ultimately appreciate, a daughter born with Down syndrome. A poignantly eloquent meditation on the genetics of belonging."—KIRKUS REVIEW

"A father's eloquent, searching memoir."—MORE Magazine     [Ranked by MORE Magazine as one of  "Five Books That Will Transform The Way You Think"]
"The Shape of the Eye is a memoir of a father's love for his daughter, his struggle to understand her disability, and his journey toward embracing her power and depth.  Estreich is raw and honest and draws us each into a new view of what it means to be 'human' and what it means to be 'different'.  This book is beautifully written, poetically insightful, and personally transformative. To read it is to rethink everything and to be happy because of the journey." —Timothy P. Shriver, Ph.D., Chairman and CEO, Special Olympics

"The Shape of the Eye personalizes Down syndrome, bringing a condition abstracted in the medical literature into the full dimensionality of one family's life. . . . Because Estreich has opened his home and heart in this memoir, we are privileged to witness in chaotic, heart-wrenching, joyous detail what it means to have and to love a child with Down syndrome."—Marcia Childress, Director of Program in Humanities, University of Virginia School of Medicine, University of Virginia School of Medicine

"At every turn [Estreich] finds metaphor where others might see only heartbreak or uncertainty…. He transcends his particular situation to find story, to find meaning and wisdom. Memoir, a genre sometimes maligned as self-indulgent and narcissistic, finds in Estreich a practitioner who brings deserved dignity to the form." —Madeleine Blais, author of In These Girls, Hope Is a Muscle, from the judge's citation for the 2012 Oregon Book Award in Creative Nonfiction.

"The Shape of the Eye is a story of misunderstanding, devastating pain, and overwhelming challenge. It is also a story of intense bonds between a man and a woman, between parent and child, and between family and community. It is a story of growth and learning. Ultimately it is a story, beautifully written, of loyalty, affection, persistence, and the most important human victory, which is love." —Robert Morgan, author of Gap Creek
 
"No other writer could have written a book this penetrating and this humane. Estreich brings to his personal story of a family's experience of Down syndrome a poet's eye and ear, an historian's depth of understanding, a humorist's healthy skepticism, and a scientist's curiosity.  The result is a splendid, stimulating, and extremely moving account of what it means to be a family, what it means to be human." —Tracy Daugherty, author of Just One Catch: A Biography of Joseph Heller
 
"The Shape of the Eye is a moving memoir that stands with one foot in past and present, immigrant and second-generation, typical and special needs–and is about all the slowly dawning understandings that come from those intersections. It's a testament to how a child with Down syndrome and her parents alike learn: just as all children grow towards adulthood with a unique sense of how to adapt, so too do adults grow into their parenthood." —Paul Collins, author of Not Even Wrong: A Father's Journey into the Lost History of Autism
 
"George Estreich's The Shape of the Eye is a book about the minute details and profound perplexities of our lives, closely observed and compellingly narrated; but more than this, it is a story about being open to the unexpected, about how welcoming a child with Down syndrome leads one to see the world anew. The Shape of the Eye is a richly rewarding book– witty, reflective, and deeply human." —Michael Bérubé, author of Life as We Know It: A Father, a Family, and an Exceptional Child
 
"This is the story of Laura, a girl with Down syndrome who taught a family to love with ordinary perfection and uncommon relevance. Expect to be taken on a journey, too, as Laura asks: What's most important in your life?" —Brian Skotko, MD, MPP, co-author of Common Threads: Celebrating Life with Down Syndrome
 
"George Estreich artfully and honestly—and often humorously—explores how we shape and are shaped by the people closest to us. When he's not digging out from a 9.0 on his Richter Scale of diapers, what he discovers is nothing less than a revelation about the nature of love." —Mitchell Zuckoff, author of Choosing Naia: A Family's Journey
 
"This is a marvelous book. There is an unmistakable air of honesty, authenticity, and humility that underpins the author's writing. For those of us with family members born with Down Syndrome, many of Estreich's observations have an unerring veracity." —David Wright, Professor of History at McGill University, H-Net Online
 
"Estreich's gift for writing is extraordinary, his prose wry and evocative. I found myself re-reading many passages, rolling them over in my mind, savoring and absorbing each word." —Lisa Morguess, literarymama.com
 
"Estreich…bring[s] both wry humor and a poet's exquisite sensitivity to the meaning and metaphor within 'hard facts.'" —Josephine Ensign, "Medical Margins" blog
 
WINNER OF THE OREGON BOOK AWARD 2012