Red Water (Paperback)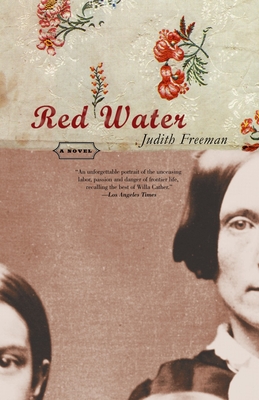 Please email or write store for pricing and availability information.
Special Request - May Not Be Available
Description
---
In 1857, at a place called Mountain Meadows in southern Utah, a band of Mormons and Indians massacred 120 emigrants. Twenty years later, the slaughter was blamed on one man named John D. Lee, previously a member of Brigham Young's inner circle. Red Water imagines Lee's extraordinary frontier life through the eyes of three of his nineteen wives. Emma is a vigorous and capable Englishwoman who loves her husband unconditionally. Ann, a bride at thirteen years old, is an independent adventurer. Rachel is exceedingly devout and married Lee to be with her sister, his first wife. These spirited women describe their struggle to survive Utah's punishing landscape and the poisonous rivalries within their polygamous family, led by a magnetic, industrious, and considerate husband, who was also unafraid of using his faith to justify desire and ambition.
About the Author
---
Judith Freeman is the author of three novels The Chinchilla Farm," "Set for Life," "and A Desert of Pure Feeling" "and of Family Attractions," "a collection of stories. She lives in California."
Praise For…
---
"An unforgettable portrait of the unceasing labor, passion and danger of frontier life, recalling the best of Willa Cather." —Los Angeles Times

"Freeman presents ravishing visions of the land, which becomes as much a character in her drama as the people she so vividly conjures . . . Gorgeous and galvanizing." —Newsday

"[C]ompelling, vivid writing that is both compassionate and unflinching; Freeman has gotten under the skin of these three very different women and their milieu in a profoundly affecting way." —The Seattle Times

"[R]evelatory. . . . [C]reates a vivid, believable picture of the high religious fervor and red-dust-covered hardships of the Utah frontier." —O, The Oprah Magazine

"Freeman renders the terrible beauty of this land and the flinty resolve of these people with great skill." —The Washington Post

"Captures the mayhem of America's westward expansion . . . An evocative tale of religious brutality and pioneer hardship set against an unforgiving landscape." –Chicago Tribune

"Intense, charged with real feeling and electricity . . . Intelligent, complex prose will give readers a chance to reflect on the deeper meanings of love and faith and endurance." –The Oregonian

"Engrossing. . . . Freeman eschews the tributaries of contemporary domestic life for the deeper and darker lake of the past. . . . Unforgettable." –St. Louis Post-Dispatch

"The narrative soars . . . makes astute points about the almost indistinguishable similarities between faith and love." –The New Yorker

"A powerful novel whose three narrators engage us so completely that we absorb their intricate history effortlessly." –BookPage