Tattered Cover Holiday Hours:
Thanksgiving Day - November 26, ALL STORES CLOSED
American Housewife: Stories (Hardcover)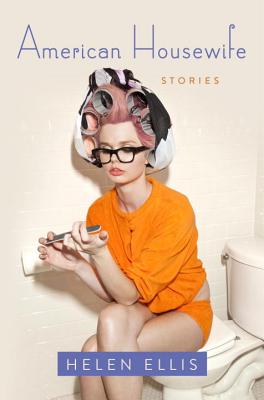 Please email or write store for pricing and availability information.
Special Request - May Not Be Available
January 2016 Indie Next List
---
"American Housewife is a little arsenic cupcake of a book: adorable and lethal! Each of the stories features a housewife who does all the usual hausfrau things, but with a homicidal twist. Each of these ladies stand by their man -- and sometimes they kill for him. I was spellbound and loved every vicious one of them, from their perfectly coiffed hair and gel-manicured fingers to their coal-black hearts! This is the guiltiest of guilty pleasures!"
— Lauren Peugh (E), Changing Hands Bookstore, Tempe, AZ
Description
---
A sharp, funny, delightfully unhinged collection of stories set in the dark world of domesticity, American Housewife features murderous ladies who lunch, celebrity treasure hunters, and the best bra fitter south of the Mason Dixon line.

Meet the women of American Housewife: they wear lipstick, pearls, and sunscreen, even when it's cloudy. They casserole. They pinwheel. They pump the salad spinner like it's a CPR dummy. And then they kill a party crasher, carefully stepping around the body to pull cookies out of the oven. These twelve irresistible stories take us from a haunted prewar Manhattan apartment building to the set of a rigged reality television show, from the unique initiation ritual of a book club to the getaway car of a pageant princess on the lam, from the gallery opening of a tinfoil artist to the fitting room of a legendary lingerie shop. Vicious, fresh, and nutty as a poisoned Goo Goo Cluster, American Housewife is an uproarious, pointed commentary on womanhood.
About the Author
---
HELEN ELLIS is the acclaimed author of Eating the Cheshire Cat. She is a poker player who competes on the national tournament circuit. Raised in Alabama, she lives with her husband in New York City.
Praise For…
---
"Macabre does not even begin to describe this collection steeped in the Southern Gothic tradition. Flannery O'Connor would turn green with equal parts sick and envy.... [T]his dark, deadpan and truly inventive collection is one you'll wish to relish long after its sell-by date."
—Patricia Park, The New York Times Book Review 

"Satirical humor as twisted as screw-top bottles — and more effervescent than the stuff that pours out of them… American Housewife is a better cure for winter blahs than hot chocolate… The opening story captures her frisky, subversive take on domesticity…  Ellis's [one-liners] are outrageously good… 'What I Do All Day' is a three-page tour-de-force, boasting as many dazzlers as a wealthy Upper East Side matron's jewelry box… Amid the furious activity, Ellis works her story to a touching punchline you never saw coming. This is shock and awww writing… Ellis is a master of the unhinged monologue, delivered by narrators whose conventional, seemingly benign, honeyed patter gradually reveals the disturbing demon within."
—Heller McAlpin, NPR 

"The 12 compact tales are delightfully dark and leave readers always rooting for the housewife, no matter how twisted her plots…. With punchy writing and unique conundrums, American Housewife can be devoured in a sitting. Resist. The tales are best consumed like the pinot grigio some of these housewives enjoy — daily."
—Christina Ledbetter, The Washington Post 

"Ms. Ellis, 45, calls herself a housewife. But that only begins to describe her. She is also a shrewd poker player who regularly competes in high-stakes tournaments, and the author of a forthcoming story collection, American Housewife, that focuses a dark and humorous lens on the domestic… The stories are addictive and full of pitch-perfect observations like, 'the only thing with less character than Chardonnay is wainscoting' and 'Delores was as fertile as a Duggar.' They are populated by, among others, neighbors in a co-op whose fight over decorating turns deadly; women in a book club trying to seduce a new member into carrying their babies; and a chilling series of dead doormen."
—J. Courtney Sullivan, The New York Times

"Darkly comic stories about, and for, 'grown-ass' ladies, featuring scary book clubs, life-changing bra fittings and instructions on matrimony, like 'Forget thongs.' LMAO."
—People

"Written in short and even shorter stories, Ellis structures her chapters as how-tos, lists, emails and some straight narrative. The book captures — and warmly lampoons — the scattered nature of modern life. The tales are also catchy, smart and very, very funny….The housewives in her collection share Ellis's wry sensibility. But as comical as they are — and they are very — these women also have a sly depth. What Ellis has done with her smart satire is very difficult: She's poking fun but not making fun of her characters. In fact, they are very likable."
—Julie Klam, The Washington Post 

"The funniest short story collection of 2016… Ellis writes like she talks, and the results are as effervescent and intoxicating as champagne punch."
—Megan Labrise, Kirkus 

"Delightful in its originality and eerie, almost demented, humor… Ellis's stories start in a place that's quite familiar—the domestic sphere of New York City's ritzy Upper East Side, where the author also resides—and end in a place that's decidedly not. Her characters are stealthily complex, their perfectly composed, well-maintained exteriors the ideal cover for inner lives that seethe with pathos and ambition."
—Julia Felsenthal, Vogue.com

"The perfect cocktail of Amy Sedaris's wacky wit and Margaret Atwood's insight, Ellis's prose is both searingly funny and emotionally sound… Pithy, witty, and biting, a combination that makes Ellis's writing delicious… The women in these stories are alone in their homes all day, and in that they possess a unique power, command over a confined kingdom."
—Claire Luchette, Elle.com
 
"The first line of Helen Ellis' book of short stories is a kind of call to arms for the American housewife. Quote, 'inspired by Beyonce, I stallion walk to the toaster.' Ellis is a self-described housewife. She's the kind of Southern lady that deals a mean hand of cards and once played at the World Series of Poker."
— Rachel Martin, NPR "Morning Edition"

"Crackle[s] with domestically ambivalent characters: the modern day Betty Drapers in Helen Ellis's short story collection, American Housewife, whose tensions over wainscoting and book clubs escalate into near-farce." 
–Vogue 

"Ellis's 12 short stories about women under pressure are archly, acerbically, even surreally hilarious. By extracting elements from the southern gothic tradition, Shirley Jackson, and Margaret Atwood, Ellis has forged her own molten, mind-twisting storytelling mode. Her pacing is swift and eviscerating, and her characters' rage and hunger for revenge are off the charts… Perfectly crafted… A breath-halting balance of slashing absurdist humor and rich and authentic emotional sensitivity… With monstrous children and cats, hopeless husbands, and covertly dangerous women, Ellis takes down the entire housewife concept with a sniper's precision. These are delectably revved up, marauding, sometimes macabre tales of ruined marriages, illness, infertility, crass commercialism (literary product placement), desperation, ghosts, even murder, featuring women of shrewd calculation, secret sorrows, and deep sympathy."
— Donna Seaman, Booklist (starred review)

"If anyone can make the Real Housewives look dull, it's the women in this collection of darkly hilarious stories."
—Cosmopolitan
 
"Her stories are funny, dark, and surreal, like George Saunders by way of Park Avenue. The one about the book club legit gave me nightmares."
—Izzy Grinspan, New York 

"American Housewife is a raucous, whip-smart collection of stories featuring retro-feminist ladies who lunch, launch madcap getaway schemes, and whack their naughty doormen with kitchen stools."
—Elle 

"The women in Helen Ellis's stunning and very funny collection, American Housewife, are very, very real… After reading the book the first time in one sitting, I kept it on my nightstand, thumbing through it every now and then, imprinting the stories in my psyche. The state of the American housewife feels like old hat, but Ellis breathes life into the concept. The stories themselves are tricky, shiny jewels, and the women that populate them are tough nuts to crack, all sharp edges and elbows. They keep you on your toes."
—Megan Reynolds, TheFrisky.com 

"Deep and engaging… Delightfully unhinged…  While her quippy observations will draw attention, the longer stories reveal a literate mind at work. Either she's a genius at writing short or she spends hours paring away flabby phrasing to make each sentence so tight you can bounce a quarter off it… Ellis layers character quirks and details like tinder and a tepee of kindling in a bonfire and carefully positions plot developments to build the story's heat and intensity."
—Martha Sheridan, The Dallas Morning News

"Sorry, Andy Cohen: Ellis' collection of 12 short stories is far more entertaining than any recent episode of Real Housewives, no matter what drama Bravo manufactures. Ellis' ladies are hilarious, honest, and delightfully bizarre (you'll never look at a box of Tampax or a salad spinner the same)—and the type of group you'd love to have over for a dinner party (or just wine). We know the whole purpose of short stories is to be, well, short, but this book left us wishing that each of Ellis' characters had a novel of her own." 
— Lynsey Eidell, Glamour.com
 
"Funny, biting, frequently dark… Think Megan Mullally's Karen Walker character (from "Will and Grace") meets Shirley Jackson…  Ellis captures the exacting performance art and exquisite inner agony of the contemporary hausfrau in crisp prose that often rises to aphorism."
—Jim Higgins, Milwaukee Journal Sentinel

"This smart, utterly clever collection is evidence that there's always more than meets the eye — and that you should never underestimate a housewife."
— Krystie Yandoli, Buzzfeed
 
"They smoke their eyes and paint their lips, listen to erotic audio books while scrubbing the bathroom floor, channel Beyoncé while hoovering, and are quietly capable of burglary, kidnapping, and murder. American Housewife is a collection of darkly comic short stories that explore what goes on behind the scenes in America's homes."
—Daniel Dalton, Buzzfeed 
 
"A collection of 12 stories that skewer domesticity in hilarious style."
—BookPage

"Lazy husbands, sociopathic mother-in-laws, offbeat book clubs and bra fittings take center stage in Ellis' book, sure to leave readers either laughing, wincing or both at the same time... [D]elicious… Ellis paints a retro-feminist portrait of the modern-day housewife... They are stylish, assertive, graceful and deranged... If you seek solace in fearless women who can whip up Martha Stewart-style five course meals after having an epic breakdown, then this book is for you." 
—Candace Smith, New York Daily News  
 
"Helen Ellis picks apart the myths and ideas about what makes a housewife, painting a compelling and humorous portrait of one of society's favorite tropes…The women in American Housewife are fully realized, dangerous, and unflinching… The stories explore a fascinating dichotomy in our image of the housewife: as both a harmlessly feminine domestic goddess and a lioness who rules her own home."
—Bridey Heing, Broadly 

"Unforgettable… The world of American Housewife is stuffed with humor at every turn. Trust me, you need this book in your life."
—Melissa Ragsdale, Bustle 

"Delightfully dark stories of demented domesticity. Who hasn't wanted to murder an uninvited guest or two? A fresh take on domestic womanhood and its evolving definitions." 
–Liberty Hardy, Book Riot 

"Desperate doesn't describe the housewives in Helen Ellis' American Housewife—try uproariously, sharply, and darkly damn funny."
—Marie Claire
 
Helen Ellis, raised in Alabama and a competitive poker player, placed her bet on fiction as the best window into the off-kilter world of pearls-and-lipstick domesticity… Hilarious."
—The National Book Review
 
"This demented and funny story collection by a professional poker player and author turns a gimlet eye on the species of American women with a surfeit of rage, irony and time on their hands."
—Tom Beer, Newsday
 
"Ellis' characters are complex, funny, and edgy—much like Ellis herself."
—Samantha Zabell, RealSimple.com

"The stories are a good mix of the sassy, the quirky, and the utterly creepy, congealing perfectly together like a good ol' Jello salad—not unlike like the one that confused her New Yorker husband during his first visit at her parents' years ago."
—Alexandra Chiasson, Good Grit Magazine

"Stop whatever you're doing and order Helen Ellis's hilarious new collection of stories, American Housewife… Dark, sharp and laugh-out-loud-funny… Like a Bravo binge, Ellis's book is best served with a bottle (or two) of wine."
—PureWow

"Hilarious and moving, terrifying and shockingly strange, every page of American Housewife is driven by the fierce and fearless voice of Helen Ellis. Mixing together reality TV, book clubs, the Upper East Side and classic whodunits, these characters never forget to dab Chanel No. 5 behind their ears before murdering their neighbors. So sit back and enjoy the cocktails and hors d'oeuvres and let these 'ladies who lunch' tell you their stories of infidelity and infertility, of decorators and doormen, of love and failure and friendship and hope. On the outside, these housewives look like Jackie O. But on the inside they are all burning with passion and rage. This book is feminism with teeth and a southern drawl. Red lipstick and a baseball bat. And I could not stop reading and laughing and cheering each of these women over the finish line."
—Hannah Tinti, author of The Good Thief 

"If your best friend was brilliant and very funny and given to sudden profound or outrageous pronouncements and nevertheless cared about every detail of the world and found meaning there, positive and negative, and poured her heart into telling you stories, and if she had an instinct for breakdowns, how we are all given to them relentlessly in ways that are both hilarious and sympathetic, it might be something like reading this wonderful, charged, lyrical, intelligent book of short stories."
—Rebecca Lee, author of Bobcat and Other Stories

"The stories in American Housewife, by the lovely Helen Ellis, are outrageous and  irreverent—code for totally relevant and utterly winning. Buy this book!"
—Hannah Pittard, author of Reunion and The Fates Will Find Their Way
 
"I finished American Housewife three days ago, and I'm still in withdrawal. I want to throw a cocktail party for Helen Ellis's beautiful, demented, touching heroines. I'd ply them with gin and Jell-O salad, admire their brooches, and force them to give up their deepest secrets. In other words, I wish I could read this exhilarating book all over again."
— Eliza Kennedy, author of I Take You
Coverage from NPR