Tattered Cover Holiday Hours:
Thanksgiving Day - November 26, ALL STORES CLOSED
The Guest Room: A Novel (Hardcover)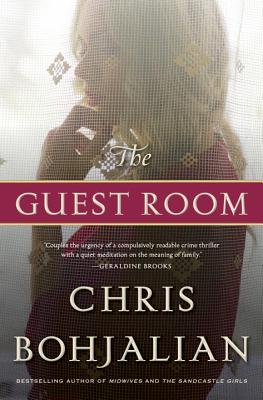 Please email or write store for pricing and availability information.
Special Request - May Not Be Available
January 2016 Indie Next List
---
"From the explosive beginning all the way to the adrenaline rush of its conclusion, The Guest Room packs an emotional punch that will leave the reader gasping. When a bachelor party goes terribly wrong and two Russian mobsters wind up dead in his home, financier Richard Chapman finds himself struggling to save his job and marriage. Intertwined with Richard's story is the tale of Alexandra, a young sex slave with a narrative voice that will break your heart. Nobody does domestic drama quite like Bohjalian. Once again he proves himself a master of page-turning literary fiction."
— Pamela Kinger-Horn (E), Excelsior Bay Books, Excelsior, MN
Description
---
From the New York Times bestselling author of Midwives and The Sandcastle Girls comes the spellbinding tale of a party gone horribly wrong: two men lie dead in a suburban living room, two women are on the run from police, and a marriage is ripping apart at the seams.

When Kristin Chapman agrees to let her husband, Richard, host his brother's bachelor party, she expects a certain amount of debauchery. She brings their young daughter to Manhattan for the evening, leaving her Westchester home to the men and their hired entertainment. What she does not expect is this: bacchanalian drunkenness, her husband sharing a dangerously intimate moment in the guest room, and two women stabbing and killing their Russian bodyguards before driving off into the night.

In the aftermath, Kristin and Richard's life rapidly spirals into nightmare. The police throw them out of their home, now a crime scene, Richard's investment banking firm puts him on indefinite leave, and Kristin is unsure if she can forgive her husband for the moment he shared with a dark-haired girl in the guest room. But the dark-haired girl, Alexandra, faces a much graver danger. In one breathless, violent night, she is free, running to escape the police who will arrest her and the gangsters who will kill her in a heartbeat. A captivating, chilling story about shame and scandal, The Guest Room is a riveting novel from one of our greatest storytellers.
About the Author
---
CHRIS BOHJALIAN is the author of twenty books, including The Guest Room; Close Your Eyes, Hold Hands; The Sandcastle Girls; Skeletons at the Feast; The Double Bind; and Midwives which was a number one New York Times bestseller and a selection of Oprah's Book Club. Chris's work has been translated into more than thirty languages, and three novels have become movies (Secrets of Eden, Midwives, and Past the Bleachers). Chris lives in Vermont and can be found at www.chrisbohjalian.com or on Facebook, Instagram, Twitter, Litsy, and Goodreads.
Praise For…
---
"Heartbreaking… Unexpected and refreshing… I won't give away of the surprising twists and turns that The Guest Room takes on the path to Bohjalian's daring conclusion; I'll only note that much of the pleasure that comes from reading any well-constructed narrative lies in trying to anticipate how the author will write himself out of seemingly inescapable corners. But here, for a change, we also have a novelist who seems more concerned with examining and dramatizing a much more universal question: whether, in the end, any amount of love or compassion, retreat or nobility or forgiveness, can overcome the remorseless workings of evil."
—Skip Horack, The San Francisco Chronicle

"The Guest Room [has] an edge-of-the-seat momentum that propels the reader straight to the last page... For those who value the well-researched novel, the author's 18th book will please… Promises to enlighten and entertain."
—Anita Shreve, The Washington Post

"Within the first few pages of The Guest Room, the latest novel by prolific author Chris Bohjalian, the booze-fueled bacchanalia that began as the fulfillment of men's fantasies turns into a Helter-Skelter-like nightmare… Bohjalian, whose books often explore the contrast between surface lightness and the darkness that lies below, takes on upper-middle class America in this novel, ripping apart any illusion of safety or moral high ground in a headlong collision between the comforting rituals of suburbia and the viciousness of the Russian mob… [Bohjalian is] at his best in The Guest Room, one of his most compelling books so far, combining an explosive premise, a timely social topic, and fast-paced storytelling with a purpose."
—Amy Driscoll, The Miami Herald

"The book's real throbbing heart is Anahit, an aspiring young dancer from Armenia... The narrative's frequent somersaults from Anahit's devastating backstory to the Chapman family's more sheltered world is a remarkable artistic feat. . .a steely exploration of the very human cost of bachelor parties and other games of male pleasure."
—Eliot Schrefer, USA Today

"A story both global and intimate… Heartbreaking." 
—Kate Tuttle, The Boston Globe
 
"Bohjalian's deft and light-handed storytelling makes this book a compelling and captivating read. In particular, Bohjalian's treatment of guilt and paranoia is realistic and downright scary. You will remember Richard and Alexandra long after the last page."
—Tracy Sherlock, The Vancouver Sun 

"A gripping story about suburban American lives ripped apart… It's hard to put down, or ever forget."
—David Shaffer, Minneapolis Star-Tribune

"Well-written and psychologically astute... Alexandra is the conscience in this conscienceless world, a girl who manages to hold on to her innocence and compassion despite the horror of her life. Her voice, with its sometimes uncertain, quirky English, is rendered with such perfection that it's easy to forget that the author is male. This, the book tells us, is what happens to the innocent... Enjoyable."
–Arlene McKanic, BookPage

"Hard to put down... Chris Bohjalian keeps readers turning each page... painfully honest... compelling."
—Amanda St. Amand, St. Louis Post-Dispatch

"While The Guest Room reads like a thriller, in Bohjalian's skilled hands it also reads as a stunning meditation on shame and scandal -- and on issues of trust and forgiveness that can make or break even a long-term ostensibly happy marriage… The Guest Room builds to a shattering -- and unexpected -- conclusion. This is a masterfully told, compulsively readable cautionary tale."
—Amy Goodfellow Wagner, The Examiner
 
"Chris Bohjalian is a master at looking unflinchingly at morally complex human dramas and providing insights into the matrix of emotions and actions of his characters… Bohjalian does it yet again in his new novel, The Guest Room, with equal sure-footedness and compelling resonance. It is one of his most daring stories yet. He takes the reader deep into the darkest corners of illicit, international sex-slave trafficking in a riveting story about worlds in collision… Bohjalian subtly crafts reverberating echoes between the two stories…The ending comes with a shock but will also leave the reader sitting quietly for a long moment, attempting to take it all in."
—Frank O. Smith, Portland Press Herald

"Superb...a stark reminder of the consequences when perhaps we don't listen to our better angels."
—Kelly Konrad, Chicago Now
 
"Suspenseful… It took all of our willpower to not bite off all of our nails as we tore through this dark thriller."
—Lynsey Eidell, Glamour

"This dramatic story is convoluted and thrilling, and nothing short of a page-turner." 
—Christina Wilkerson, Arkansas Traveler

"The Guest Room pulses quick as a page-turner, but its concerns run deep into the moral consequences following an eruption of violence in ordinary lives." 
–Charles Frazier, National Book Award winning author of Cold Mountain

"A good man's momentary moral lapse plunges his happy, prosperous life into a nightmare of murderous gangsters and remorseless sex traffickers.  Bohjalian's deftness as a story teller is on full display here, as he couples the urgency of a compulsively readable crime thriller with a quiet meditation on the meaning of family and relationships; the painstaking, quotidian, essential business of how we win love, and how swiftly we can lose it."
—Geraldine Brooks, Pulitzer Prize winning author of March

"Gripping…Venturing into crime-thriller territory familiar to fans of Harlan Coben, Bohjalian's page-turner about an average Joe caught up in sordid events beyond his control resonates with chilling plausibility."
—Carol Haggas, Booklist

"Bohjalian catches a key social moment with a book that's fresh and different... a tale of scandal, shame, and escalating suspense."
—Barbara Hoffert, Library Journal

"Reads like a thriller...I did not see the end coming. Chris does a terrific job of exploring the very dark side of traffickbing and the women who are preyed on...Lots to discuss, and book clubs should take note."
—Carol Fitzgerald, The Book Reporter

"Bohjalian is at his best in The Guest Room, one of his most compelling books so far, combining an explosive premise, a timely social topic, and fast-paced storytelling with a purpose."
—Amy Driscoll, The Miami Herald

"Bohjalian's novel is a tightly constructed, sex-and-violence-driven thriller, but it's also a check to the convenient ignorance indulged in by American consumers — of entertainment as well as goods."
—Peggy Burch, Memphis Commercial Appeal

"The Guest Room is a page-turner in every sense of the word. From its very first page to an emotionally charged surprise ending, Bohjalian's fast-paced plot draws readers in and makes the book truly 'hard to put down'...Remarkable... A captivating and insightful read." 
—Rupen Janbazian, The Armenian Weekly 

"A devilishly good story. And this suspenseful crime novel, imbued with violence, bad decisions and families torn apart, may be Bohjalian's best one yet."
—Carol Memmott, Book Trib