Crossroads (Hardcover)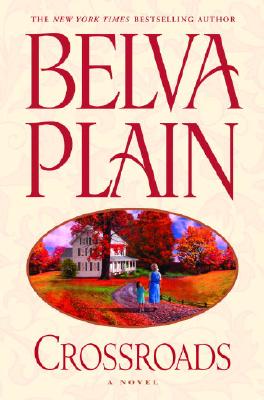 Please email or write store for pricing and availability information.
Special Request - May Not Be Available
Description
---
No one explores the rich tapestry of the human heart as Belva Plain does. Her more than twenty New York Times bestsellers have captivated readers and garnered legions of devoted fans. Now Plain dazzles us once again with a new novel of rare eloquence and raw emotion…a powerful tale about the consequences of greed—and the acts of love and forgiveness that can heal the heart.

Cassie Wright never saw it coming. As owner of Wright Glassworks, the foremost company in a thriving New England town, Cassie's life was quiet, focused on her work and home…until a tragic accident turns her carefully ordered world upside down. For there is a surviving child to think about—and Cassie must take in one-year-old Gwen, who has no one else to care for her. As the years pass, Cassie will raise Gwen as her own, and a little girl who lost everything will flourish in a world of privilege and opportunity.

Enter Jewel Fairbanks. Beautiful and conniving, Jewel will touch the lives of both Cassie and Gwen in powerful ways. From the moment they meet, Jewel envies Gwen, who seems to have everything Jewel wants. The two couldn't be more different, but their lives will soon become inextricably intertwined. Both will marry—but to profoundly different men. For Gwen, it is honest, hardworking Stan who steals her heart; Jewel will set her sights on Jeff, a shrewd businessman who owns the company where Stan works.

But when Stan makes a shocking discovery on the job, relationships begin to shift and change...and soon a tangled drama of greed, jealousy, and betrayal will encircle both couples, as a chain reaction of unexpected events changes four lives forever—in ways they never could have foreseen….
About the Author
---
Belva Plain captured readers' hearts with her first novel, "Evergreen," which Delacorte published more than 30 years ago. It topped the "New York Times" best-seller list for 41 weeks and aired as an NBC-TV miniseries. In total, more than 20 of her books have been "New York Times" best sellers.

Before becoming a novelist, Belva Plain wrote short stories for many major magazines, but taking care of a husband and three children did not give her the time to concentrate on the novel she had always wanted to write. When she looked back and said she didn't have the time, she felt as though she had been making excuses. In retrospect, she said, "I didn't make the time." But, she reminded us, during the era that she was raising her family, women were supposed to concentrate only on their children. Today 30 million copies of her books are in print.

A Barnard College graduate who majored in history, Belva Plain enjoyed a wonderful marriage of more than 40 years to Irving Plain, an ophthalmologist. Widowed for more than 25 years, Ms. Plain continued to reside in New Jersey, where she and her husband had raised their family and which was still home to her nearby children and grandchildren until her death in October 2010.
Praise For…
---
"An accomplished storyteller." —Washington Post

"Belva Plain writes with authority and integrity." —San Francisco Chronicle

"Belva Plain is in a class by herself."—New York Times

"Trademark Plain, with heroines and villains ... and dashes of intrigue."—Rocky Mountain News



From the Paperback edition.