The Lust Lizard of Melancholy Cove (Hardcover)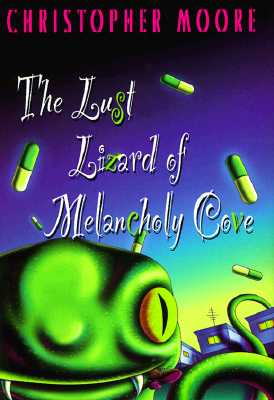 Please email or write store for pricing and availability information.
Special Request - May Not Be Available
Description
---
Christopehr Moore has pioneered a parade of loopy, hilarious genres that have delighted readers world-wide. The comically demonic horror novel. The yuppie-meets-shaman New Age Western. The California vampire love story. The South Seas adventure novel on acid. Now the maestro of the bizarre brings you his most incredible creation yet-a love story starring a sea monster named Steve. It's "Godzilla" meets "The Bridges of Madison County," as only Christopher Moore could spin it.
It's September in Pine Cove, California, where the tourists have finally decamped for the season, the sun is slanting through the trees, and the local psychiatrist has just decided to switch everyone from antidepressants to placebos without telling them. Suddenly, business is booming at the Head of the Slug Saloon, where a melancholy blues man from the Mississippi Delta has settled in for the winter. Unfortunately for the town's newly minted blues fans, however, a colossal sea beast is also drawn to the sound of the slide guitar. When a tanker truck explodes at the local gas station, it's the first sign that all hell is about to break loose in Pine Cove.
Can the unlikely constable Theophilus Crowe curb his gonzo appetites long enough to find out who--or what--is behind the explosion and the resulting series of mysterious crimes? Can Molly Michon, the has-been scream queen and resident crazy lady, control her dual personalities? Can anyone explain why a town so morose is suddenly so...libidinous? And what's the story behind the mysterious trailer that has just shown up in the back corner of the local trailer park?
Wildly original and ferociously funny, The Lust Lizard of Melancholy Cove has enough crazy twists to give anyone a personality disorder-and keep them in the throes of convulsive laughter at the same time.