Twentynine Palms: A True Story of Murder, Marines, and the Mojave (Paperback)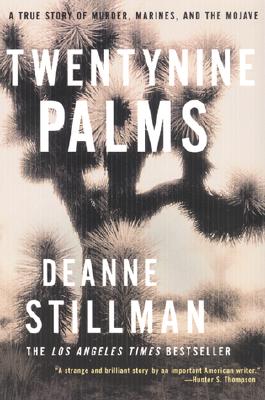 Please email or write store for pricing and availability information.
Special Request - May Not Be Available
Description
---
August 2, 1991, Twentynine Palms, California: a troubled Marine who has recently returned from the Gulf War savagely murders two young girls. One girl was about to turn sixteen, the other twenty-one.Exquisitely and inexorably, Deanne Stillman uses this tragedy as a prism through which she explores not only the murders and the families involved but a rootless culture of fatherless families, shattered dreams, and relentless violence. In haunting, vivid prose, she creates a farreaching story of America itself, carrying us into the empty white heart of the Mojave, as we meet and come to know the modern nomads who turn to the West for salvation only to be devoured by its false promise.
Praise For…
---
"As stunning as it is shocking....you can almost feel the blistering heat."
-Arizona Daily Star

"A strange and brilliant story by an important American writer."
-Hunter S. Thompson

"This is the Great American Desert where the sun has yet to shine."
-Charles Bowden, author of Blue Desert

"[Stillman's] writing and reporting skills are excellent."
-The Oregonian

"One of the best stories to come out of the high California Desert....a terrific book."
-Judith Freeman, author of A Desert of Pure Feeling

"A dust-devil tale of murder, madness and the military soaked in white-hot passion and razor-sharp insights."
-Lucian Truscott, author of Dress Gray

"This haunting desert-gothic tale [is]...an irresistible plunge into a palm-fringed nightmare."
-Ron Rosenbaum, author of Explaining Hitler

"Highly recommended for all public libraries."
-Library Journal

"Good news for readers who've been waiting for a book to match In Cold Blood."
-East Bay Express

"Stillman immerses herself and her reader in a world at which few desire even to peek, depriving both of cliche."
-LA Weekly

"Stillman's conscientious research and stylistic verve make TWENTYNINE PALMS an engrossing read, well above most true crime stories."
-Washington Post

"...Blows readers away...with the blood and guts and heart of the murder...I wept during the funeral."
-Austin Chronicle

"To writer Deanne Stillman's enormous credit, her new book focuses on the sad, awful world of the murdered girls..."
-Pages Magazine

"Echoes of Joan Didion...A haunting and evocative journey to strange yet recognizable terrain."
-Los Angeles Times Book Review

"Stark observations...a fascinating, if chilling, read."
-Maxim