Modern Fairies, Dwarves, Goblins, and Other Nasties: A Practical Guide by Miss Edythe McFate (Hardcover)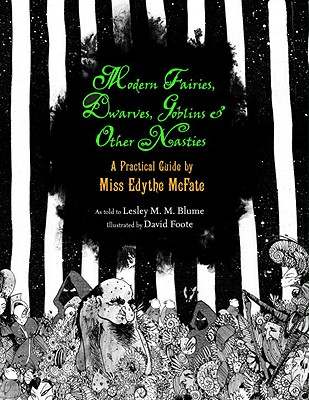 Please email or write store for pricing and availability information.
Special Request - May Not Be Available
Description
---
Perhaps you think fairies are figments of the imagination, or even relics of an ancient past. You may even think all fairies are lovely winged creatures, who dance in bluebell fields, granting wishes to anyone who should encounter them.
You would be wrong on all counts.
Fairies are very much alive today, and they are everywhere--in our cities, our backyards, and even our kitchen cupboards. Some of them are indeed the sweet-tempered, winged creatures of folklore, but the fairy family also includes goblins, trolls, brownies, and other strange creatures, some of which are revealed to humans in this book for the very first time. While many fairy breeds are harmless, others can be quite nasty or even dangerous.
In this luxuriously illustrated guidebook, preeminent fairy expert Miss Edythe McFate shares her knowledge of the modern fairy world and includes practical advice on matters such as how to tell a good fairy from a bad one, how to spot a "fairy ring," how to tell the difference between dwarves and trolls (one species is far deadlier than the other), and how to defend against fairies who would do you harm. Also included are eight true cautionary tales about children who have encountered fairies in ultramodern New York City.
You would be wise to read closely, lest you find yourself in your own fairy encounter, for as Miss Edythe McFate reminds us, "Forewarned is forearmed.
About the Author
---
LESLEY M. M. BLUME spent much of her childhood sitting in her backyard, willing fairies to appear. These days, she is an author and journalist based in New York City. Her books for children include Cornelia and the Audacious Escapades of the Somerset Sisters, The Rising Star of Rusty Nail, and Tennyson, which the Chicago Tribune praised for its "brilliant, unusual writing."You can learn more about her at www.lesleymmblume.com. DAVID FOOTE envisions the world through a fantastical black-and-white looking glass. He is a fine artist, filmmaker, and animator who left his hometown of Caracas, Venezuela, at eighteen to study at the Parsons School of Design in New York City, where he currently lives. Modern Fairies, Dwarves, Goblins & Other Nasties is his first children's book.Visit him on the Web at www.davidfootestudio.com.