A Time of Miracles (Paperback)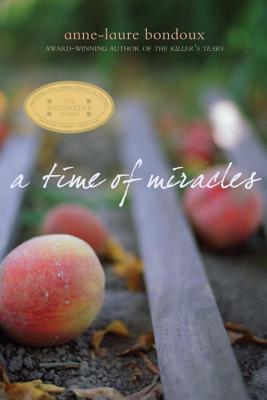 Please email or write store for pricing and availability information.
Special Request - May Not Be Available
Description
---
Political troubles and civil unrest force a woman and young boy to flee their war-torn country in search of a safe haven in this award-winning novel that speaks to issues that are both timely and universal.

Blaise Fortune, also known as Koumal, loves hearing the story of how he came to live with Gloria in the Republic of Georgia: Gloria ran to the site of a train accident where she found an injured woman who asked Gloria to take her baby. The woman, Gloria says, was French, and the baby was Blaise. When Blaise turns seven years old, the Soviet Union collapses, and it's then that Gloria decides she and Blaise must flee. They make their way westward on foot, heading toward France, where Gloria says they will find safe haven. During their five-year journey across the Caucasus and Europe as they encounter other refugees searching for a better life, Blaise grows from a boy into an adolescent. However, it's only as a young man can Blaise attempt to untangle his identity. Bondoux's heartbreaking tale of exile, sacrifice, hope, and survival is a story of ultimate love. "A beautifully cadenced tribute to maternal love and the power of stories amid contemporary political chaos."--Kirkus Reviews, Starred Review "The two Blaise and Gloria] make a perilous, five-year journey westward through war-torn territory, encountering a memorable entourage of fellow refugees with poignant stories of their own. ... Though Blaise narrates this splendidly translated novel, Gloria's voice will long resonate."--Publishers Weekly Starred Review

"An enchanting novel that mixes grand storytelling with an unflinching look at the harsh realities of poverty."--Junior Library Guild
About the Author
---
Anne-Laure Bondoux has received numerous literary prizes in her native France. Among her previous books published by Delacorte Press is The Killer's Tears, which received the prestigious Prix Sorci'res in France and was a Mildred L. Batchelder Honor Book in the United States. From the Hardcover edition.
Praise For…
---
"A refugee boy and his mother flee Georgia in 1989 and travel alone through the Caucasus for eight years to reach France. Koumaïl has always lived with Gloria, who tells him stories of rescuing him from a bombed train and stealing passports from his dead French mother. As civil war engulfs the Caucasus, they escape, moving from one refugee camp to the next, suffering hunger and illness. Along the way, Koumaïl makes friends and finds first love, supported by Gloria, who calls him her "little miracle," promises "tomorrow life will be better" and reminds him to "be happy... at all times." When they arrive in France, Gloria vanishes, leaving Koumaïl to survive alone to become a real French citizen. Koumaïl tells his story "in the right order," from the perspective of a 20-year-old refugee who ultimately discovers his true identity and that of the optimistic, resourceful woman who made "up stories to make life more bearable." A beautifully cadenced tribute to maternal love and the power of stories amid contemporary political chaos."
-Kirkus Reviews, starred

"An exceptional story."--School Library Journal, starred

"[A] beautifully nuanced novel."--Publishers Weekly, starred

"Readers will find themselves mesmerized not only by the eloquent language but by a plot every bit as harrowing and surprising as Koumail's cherished bedtime story."--The Horn Book Magazine, starred