Wild Grass: Three Stories of Change in Modern China (Paperback)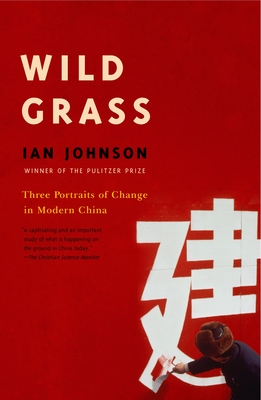 Please email or write store for pricing and availability information.
Special Request - May Not Be Available
Description
---
In Wild Grass, Pulitzer Prize--winning journalist Ian Johnson tells the stories of three ordinary Chinese citizens moved to extraordinary acts of courage: a peasant legal clerk who filed a class-action suit on behalf of overtaxed farmers, a young architect who defended the rights of dispossessed homeowners, and a bereaved woman who tried to find out why her elderly mother had been beaten to death in police custody. Representing the first cracks in the otherwise seamless fa ade of Communist Party control, these small acts of resistance demonstrate the unconquerable power of the human conscience and prophesy an increasingly open political future for China.
About the Author
---
Ian Johnson is the Berlin Bureau chief for The Wall Street Journal. In 2001, when he was the Journal's Beijing correspondent, he won the Pulitzer Prize for his reporting on the Falun Gong. He lives in Berlin.
Praise For…
---
"A captivating and an important study of what is happening on the ground in China today." –The Christian Science Monitor

"Compelling. . . . Beautifully spare. . . . Johnson is to be commended for his sensitive rendering of his subjects." –The New York Times

"Illuminating. . . . There is no better [book] on what life is like for ordinary uppity Chinese. . . . Johnson has not only lifted a corner of the curtain which covers China's reality beyond its glittering eastern cities; he has drawn the whole curtain." –The Times Literary Supplement

"Memorable. . . . Perhaps more than any other recent writer, Ian Johnson . . . captures [China's] 'slow-motion revolution.' " –The Baltimore Sun

"Elegant. . . . Through dogged reporting . . . we get an exciting inside view. . . . Wild Grass is journalism at its best." –South China Morning Post

"A triumph. . . . Compelling. . . . A hopeful book. . . . The author's reporting skills are phenomenal. . . . An invaluable aid for anyone . . . hoping to understand [China's] economic and political struggles." –The Washington Times

"A gripping tale of a very few ordinary people and their extraordinary courage in fighting for their rights against the Communist Party leviathan." –The Washington Post Book World

"This year's best general book on China." –China Economic Quarterly

"Elegantly written. . . . Poignant. . . . Insightful, well-crafted. . . . Likely to find a broad readership." –Boston Review

"Cause for hope for China's future. . . . In vivid detail, [Johnson] recounts . . . cases . . . that show that individual Chinese at last have hope that the legal system can help." –Foreign Affairs

"Gripping . . . taut, perceptive writing. . . . Reads in parts like a John Grisham legal thriller." –Houston Chronicle

"Johnson is a wonderful storyteller. . . . His book is filled with evocative passages. . . . He captures the resilient spirit of many Chinese people." –The Christian Science Monitor

"Johnson writes well, wielding a remarkably gentle pen against the grossest injustices or when describing the most remarkable instances of personal bravery. The people written about here could wish for no better chronicler." –The Asian Review of Books

"This year's best general book on China." –China Economic Quarterly