The New Biographical Dictionary of Film: Expanded and Updated (Paperback)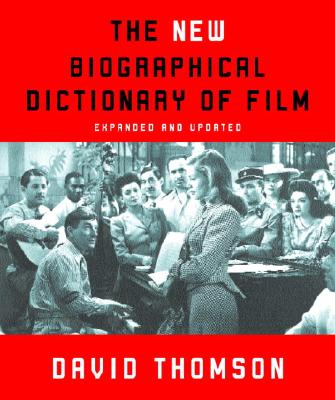 Please email or write store for pricing and availability information.
Special Request - May Not Be Available
Description
---
For almost thirty years, David Thomson's Biographical Dictionary of Film has been not merely "the finest reference book ever written about movies" (Graham Fuller, Interview), not merely the "desert island book" of art critic David Sylvester, not merely "a great, crazy masterpiece" (Geoff Dyer, The Guardian), but also "fiendishly seductive" (Greil Marcus, Rolling Stone).

This new edition updates the older entries and adds 30 new ones: Darren Aronofsky, Emmanuelle Beart, Jerry Bruckheimer, Larry Clark, Jennifer Connelly, Chris Cooper, Sofia Coppola, Alfonso Cuaron, Richard Curtis, Sir Richard Eyre, Sir Michael Gambon, Christopher Guest, Alejandro Gonzalez Inarritu, Spike Jonze, Wong Kar-Wai, Laura Linney, Tobey Maguire, Michael Moore, Samantha Morton, Mike Myers, Christopher Nolan, Dennis Price, Adam Sandler, Kevin Smith, Kiefer Sutherland, Charlize Theron, Larry Wachowski and Andy Wachowski, Lew Wasserman, Naomi Watts, and Ray Winstone.

In all, the book includes more than 1300 entries, some of them just a pungent paragraph, some of them several thousand words long. In addition to the new "musts," Thomson has added key figures from film history–lively anatomies of Graham Greene, Eddie Cantor, Pauline Kael, Abbott and Costello, Noël Coward, Hoagy Carmichael, Dorothy Gish, Rin Tin Tin, and more.

Here is a great, rare book, one that encompasses the chaos of art, entertainment, money, vulgarity, and nonsense that we call the movies. Personal, opinionated, funny, daring, provocative, and passionate, it is the one book that every filmmaker and film buff must own. Time Out named it one of the ten best books of the 1990s. Gavin Lambert recognized it as "a work of imagination in its own right." Now better than ever–a masterwork by the man playwright David Hare called "the most stimulating and thoughtful film critic now writing."
About the Author
---
David Thomson has taught film studies at Dartmouth College, has served on the selection committee for the New York Film Festival, and has been a regular contributor to "The Guardian, The Independent, The New York Times, The Nation, Movieline, The New Republic, "and "Salon. "His other books include ""Have You Seen . . . ?" A Personal Introduction to 1,000 Films; Showman: The Life of David O. Selznick; "and three works of fiction: "Suspects, Silver Light, "and" Warren Beatty and Desert Eyes. "Thomson lives in San Francisco with his family. "From the Hardcover edition."
Praise For…
---
"Opinionated, slightly cranky, vastly entertaining, endlessly informative. Of all the reference books I have, this is always the hardest to put down."
—Philip Pullman

"The single most stunningly informative, learned and provocative book I've encountered about the movies…The breadth of Thomson's research and his skill in writing about that knowledge will take your breath away, whether you are a scholarly aficionado or a weekend filmgoer."
—William W. Starr, The State (Columbia, SC)

"Thomson's love for the medium is proprietary, possessive, suffused with an academic's breadth of knowledge and a fan's mad crushes. He is by turns analytical and ardent, dryly appalled and moistly enthralled–and his book deserves a home on whatever flat surface is available between you and your DVD player."
—Mark Harris, Entertainment Weekly

"Even more seductive than the last edition . . . One of the most influential books on cinema ever written."
—Henry Cabot Beck, New York Daily News

"And now, [The Biographical Dictionary of Film] stands before us again, as grand and eccentric as Samuel Johnson's dictionary, or one of the madder, more imaginary encyclopedias you'll find in the pages of Borges . . . Mr. Thomson is, I think, the last of the great film writers, up there with Graham Greene and Pauline Kael–not least because he has the courage to wonder aloud whether film is greatness' proper medium . . . [He] is here to sing the multiplex blues–sitting there, at the back to the cinema, amid the torn velour and spilled Pepsi–but this book is the most beautiful of torch songs, and more than bright enough to light up the gloom."
—Tom Shone, New York Observer

"Thomson has demonstrated wit and originality beyond a reasonable doubt . . . in the latest edition of his deservedly treasured reference work, the book's third and biggest revision since it first appeared in 1975, Thomson proves anew that he is irreplaceable. . . . [The New Biographical Dictionary of Film] is starting to feel like a public resource . . . Thomson's monologue has blossomed into an unlikely, searching dialogue about what to value in the movies . . . Thomson adds another honest wrinkle to one of the most probing accounts ever written of a human being's engagement with the movies."
—Sarah Kerr, New York Times Book Review

"A reference book of extraordinary literary merit, this eccentric, audacious, sparkling work returns–revised, updated, and bulging with 300 new entries . . . Probably the greatest living film critic and historian, Thomson, an Englishman who lives in San Francisco, writes the most fun and enthralling prose about the movies since Pauline Kael . . . The book is a marvel."
—Benjamin Schwarz, Atlantic Monthly (lead review)

"When this book was first published in 1975, it ignited arguments among many film buffs . . . This latest upgrade–which includes 300 new entries–promises to do the same . . . Thomson often nails the essence of a personality or career in less than a dozen words . . . One still turns to [him] for witty writing and potent, razor-sharp insights. With immense passion for pictures, he plunges past the IMDb [Internet Movie Database] into the very soul of film."
—Publishers Weekly

"Thomson's massive, invaluable attempt to comprehend and compress more than 100 years of movie history into a single volume . . . The massiveness of his erudition and the brisk confidence of his manner–he's an awfully good writer–render Thomson something of a dangerous character . . . Earlier editions have been my constant compansions for decades, consulted almost weekly . . . I happily welcome this latest . . . May our quarrels never end."
–Richard Schickel, Los Angeles Times

"An intellectual Filmgoer's Companion . . . an invaluable standard text for students, fans, and serious enthusiasts."
–Peter Bogdanovich

"One of the finest film critics in the English language."
–Philip Lopate, New York Times Book Review

"This dictionary could be declared the best book on the movies ever written in English . . . It is a delight to browse through, to leaf through, to read aloud to a constant companion in the dark . . . The secret of this book is the secret of the movies: it gives you pleasure . . . Thomson is the Dr. Johnson of film."
–Guillermo Cabrera Infante, The New Republic

"A treasure . . . Unique, fascinating and more than a little addictive . . . A great critic's great work."
–Laura Miller, San Francisco Examiner

"Delicious, one of the best and most useful books written about the movies."
–Edward Guthmann, San Francisco Chronicle