New Addresses (Paperback)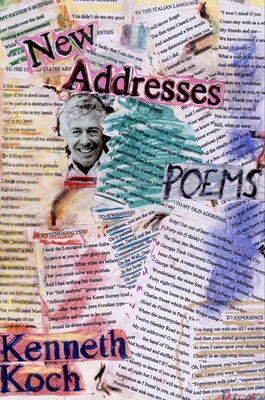 Please email or write store for pricing and availability information.
Special Request - May Not Be Available
Description
---
Kenneth Koch, who has already considerably "stretched our ideas of what it is possible to do in poetry" (David Lehman), here takes on the classic poetic device of apostrophe, or direct address. His use of it gives him yet another chance to say things never said before in prose or in verse and, as well, to bring new life to a form in which Donne talked to Death, Shelley to the West Wind, Whitman to the Earth, Pound to his Songs, O'Hara to the Sun at Fire Island. Koch, in this new book, talks to things important in his life -- to Breath, to World War Two, to Orgasms, to the French Language, to Jewishness, to Psychoanalysis, to Sleep, to his Heart, to Friendship, to High Spirits, to his Twenties, to the Unknown. He makes of all these "new addresses" an exhilarating autobiography of a most surprising and unforeseeable kind. From the Hardcover edition.
About the Author
---
Kenneth Koch has published many volumes of poetry, including New Addresses, Straits and One Train. He was awarded the Bollingen Prize for Poetry in 1995, in 1996 he received the Rebekah Johnson Bobbitt National Prize for Poetry awarded by the Library of Congress, and he received the first Phi Beta Kappa Poetry award in November of 2001. His short plays, many of them produced off- and off-off-Broadway, are collected in The Gold Standard: A Book of Plays. He has also written several books about poetry, including Wishes, Lies, and Dreams; Rose, Where Did You Get That Red?; and, most recently, Making Your Own Days: The Pleasures of Reading and Writing Poetry. He taught undergraduates at Columbia University for many years. He died in 2002. From the Hardcover edition.