The 7 Stages of Motherhood: Loving Your Life Without Losing Your Mind (Paperback)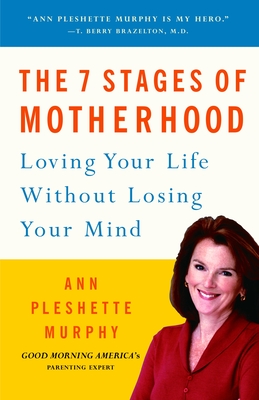 Please email or write store for pricing and availability information.
Special Request - May Not Be Available
Description
---
This refreshingly candid parenting book puts mothers--not children--center stage. Ann Pleshette Murphy provides a reassuring, wise, and often wildly funny mix of anecdotes and advice as she describes the seismic shifts in women's lives and identities from pregnancy through a child's graduation. She draws on countless conversations with mothers and with child development experts she has met as the parenting contributor to Good Morning America and as the former editor-in-chief of Parents magazine. The mother of two, Murphy freely shares her own trials and errors in stories that will have readers laughing in relief and recognition. Written with wit, warmth, and unfailing empathy, The 7 Stages of Motherhood is an exuberant and indispensable guide to making the most of motherhood. Words of Wisdom for Every Stage of Motherhood

_ Forget the "mothering comes naturally" myth:
And don't be afraid to ask for help _ Avoid keeping up with the Joneses:
Give your kids what they need, not everything they want. _ Know when you're in the wrong movie:
Don't try to cast your kids in a remake of your childhood. _ Give yourself credit for finding Lego Man's hair:
Little acts of caring matter more to your kids than getting through your to-do list _ Be a mother, not Mother Teresa:
When you neglect your own needs, you shortchange your kids

About the Author
---
Ann Pleshette Murphy has been Good Morning America's on-air parenting expert since 1998. A highly sought-after speaker, she was for ten years the editor-in-chief of Parents magazine. She writes a parenting column for USA Weekend and serves on the board of Zero to Three, the leading national organization dedicated to the well-being of infants and toddlers. She resides in New York City with her husband and two children.
Praise For…
---
"Refreshingly honest, often hilarious." —The New York Sun

"An emotional lifeline to mothers everywhere." —William Pollack, author of Real Boys

"Ann Pleshette Murphy is one of my heroes."
–T. Berry Brazelton, M.D.

"No one is in a better position to support and inform parents than Ann Pleshette Murphy, whom every parent can look to with extreme confidence because her years of personal experience as a mother, unlimited access to experts and perhaps most important, the special warmth and honesty with which she approaches the joys and challenges of parenthood. As the extraordinarily successful and highly respected editor-in-chief of Parents for more than ten years, she has been able to bring a unique perspective to supporting, advising, and best of all understanding child-rearing issues–always going beyond the obvious and reaching out with depth and empathy. Any parent who reads this book will gain insight and increased confidence."
–Nancy Samalin, director of Parent Guidance Workshops, NYC & bestselling parenting author whose newest book is Loving Without Spoiling & 100 Other Timeless Tips for Raising Terrific Kids


"Ann Pleshette Murphy is every Mom's–and Dad's–best friend. She has captured the complexities, joys, and sorrows of parenting and presented them in ways that help us manage the usual and unusual crises of caring for children in the midst of a busy life. She is like a good parent to her readers: she lends a helping hand, she is a supportive voice in your ear, but her greatest joy is seeing you go off on your own, confident and competent."
–Samuel J. Meisels, President, Erikson Institute, author of Winning Ways to Learn

"Ann Pleshette Murphy knows what to expect after you're expecting. Her stories and insights about mothering do more than teach the facts of children's development. This is a book about adult development–about how running the emotional gauntlet of parenting changes us forever."
–Justin Richardson, M.D., co-author of Everything You Never Wanted Your Kids to Know About Sex (But Were Afraid They'd Ask)

"Heartwarming, witty, and wise . . . Let Ann Pleshette Murphy be your guide on this charming tour through motherhood."
–Harvey Karp, M.D., author of The Happiest Baby on the Block

"Annie Murphy has told us rare and liberating truths about parenting. A skilled journalist, she is incredibly observant of herself and her children without being self-serving or narcissistic in the rendering. Her respect for her kids, and ours, sets a standard for parenting books."
–Kyle Pruett, M.D., author of Fatherneed: Why Father Care is as Essential as Mother Care for Your Child