The Karma Club (Hardcover)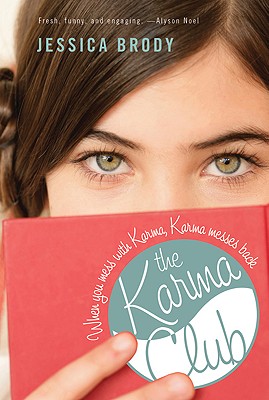 Please email or write store for pricing and availability information.
Special Request - May Not Be Available
Description
---
Madison Kasparkova always thought she understood how Karma works. Do good things and you'll be rewarded, do something bad and Karma will make sure you get what you deserve. But when Maddy's boyfriend cheats on her, nothing bad comes his way. That's why Maddy starts the Karma Club, to clean up the messes that the universe has left behind. Sometimes, though, it isn't wise to meddle with the universe. It turns out Karma often has plans of its own.
About the Author
---
Jessica Brody knew from a young age that she wanted to be a writer. She started "self-publishing" her own books when she was seven years old, binding the pages together with cardboard, wallpaper samples and electrical tape. Brody graduated from Smith College in 2001 with a double major in Economics and French and a minor in Japanese. She went to work for MGM Studios as a Manager of Acquisitions and Business Development, and then, in 2005, she quit her job to follow her dream of becoming a published author. Brody is the author of the young adult novel "My Life Undecided" and two novels for adults--"The Fidelity Files" and "Love Under Cover." Jessica's books are published in over ten foreign countries including the U.K., France, Germany, Czech Republic, Russia, Brazil, China, Portugal, and Taiwan. She now works full time as a writer and producer, and currently splits her time between Los Angeles and Colorado.
Praise For…
---
"Equal parts fresh, funny, and engaging, The Karma Club is the story of one girl's attempt to speed Karma along only to discover that Karma plays by its own rules. Jessica Brody has created a witty, endearing heroine in Maddy Kasparkova—this is one YA debut you won't want to miss!" —Alyson Noel, #1 New York Times bestselling author of Evermore and Blue Moon
"This book takes the drive and social focus of Legally Blonde's Elle Woods and mashes it up with My Name is Earl's Karma. The Karma Club is a cute, hilarious and heart-warming look into the difference between Karma that looks like revenge and the Karma of pay it forward." —Justine magazine
"All the fun and intrigue of Gossip Girl, with the heart of a Sarah Dessen novel and the soul of the I Ching." —Gabrielle Zevin, author of Elsewhere and Memoirs of a Teenage Amnesiac
"The thing is, you can't just order up some karma when another person does something wrong. You have to live your life well and just trust that the universe will reorder and reconcile other's misdeeds. When Madison tries to take karma into her own hands, the universe laughs softly and turns the tables on her, which leads to a series of unfortunate events in her life. Lesson learned in this fun summer read."—Kiwi magazine
"A very entertaining read filled with friendship, girls kicking butt, and taking a break from boys.   I love books with girls taking charge - and this one fits the bill perfectly."— TeensReadToo.com, reviewed by Jennifer Rummel, FIVE STAR review
"Written with wit and panache. Readers will have fun with this one, and it might make them think a little, too." —Booklist
"It's a well-paced comedy, with a nice balance of cinematic physical humor and genuine teen emotions." —Publishers Weekly
"The action-packed narrative builds an impressive amount of suspense for what is essentially a comic romance, and readers might learn a thing or two about Buddhist philosophy along the way." —Kirkus Reviews
"This fun, fast-paced read will bring a smile to the face of anyone who has dealt with high school's ups and downs, and will make them think before they meddle with fortune." —School Library Journal
"The Karma Club is exactly the book you'd want to read after getting dumped. With an effortless understanding of the teen landscape, Jessica Brody takes the classic tale of "what goes around, comes around" and crafts a fresh, funny, relatable story that proves it's never to late to admit your mistakes and set Karma back on its natural course."  —Rosalind Wiseman, New York Times best-selling author of Queen Bees & Wannabees