Forgotten Land: Journeys Among the Ghosts of East Prussia (Hardcover)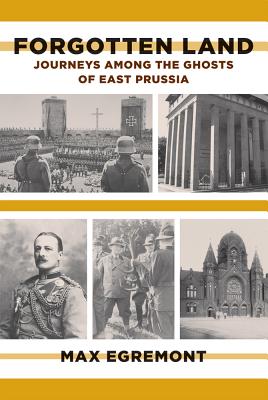 Please email or write store for pricing and availability information.
Special Request - May Not Be Available
Description
---
Until the end of World War II, East Prussia was the German empire's farthest eastern redoubt, a thriving and beautiful land on the southeastern coast of the Baltic Sea. Now it lives only in history and in myth. Since 1945, the territory has been divided between Poland and Russia, stretching from the border between Russia and Lithuania in the east and south, and through Poland in the west. In "Forgotten"" Land," Max Egremont offers a vivid account of this region and its people through the stories of individuals who were intimately involved in and transformed by its tumultuous history, as well as accounts of his own travels and interviews he conducted along the way.
"Forgotten Land" is a story of historical identity and character, told through intimate portraits of people and places. It is a unique examination of the layers of history, of the changing perceptions and myths of homeland, of virtue and of wickedness, and of how a place can still overwhelm those who left it years before.
About the Author
---
Max Egremont was born in 1948 and studied modern history at Oxford University. He is the author of four novels and four biographies, most recently "Siegfried Sassoon: A Life" (FSG, 2005)." "Egremont is a Fellow of the Royal Society of Literature.
Praise For…
---
Praise for Siegfried Sassoon:

"This is it. The thoroughly authentic, artistically intelligent biography we've been waiting for. The book is refreshingly rich and subtle as well as psychologically acute. Thank you, Max Egremont." —Paul Fussell, author of The Great War and Modern Memory
Praise for Forgotten Land:
"Memory, its suppression and manipulation, is a recurrent theme in this original book . . . Egremont has written a book that tries to make sense of this history—not as a single, chronological narrative, but as a sequence of short, interconnected essays in which measured reflections, portraits of the leading political and cultural figures, and conversations with exiles from this 'forgotten land' are interwoven. Egremont's allusive prose style seems to echo these multiple perspectives, changing frontiers, blurred racial identities, shifting allegiances and the mass movement of peoples—a story for our time." Richard Calvocoressi, The New Statesman
"The book's canvas is remarkable . . . Egremont's compelling tale exploits his boundless intellectual curiosity, mastery of German and eye for whimsy as well as tragedy. I know enough of the story he tells to appreciate how much he has discovered that is quite unfamiliar to Anglo-Saxon readers . . . his literary journey through its past makes fascinating reading." —Max Hastings, Sunday Times (UK)
"East Prussia is Germany's lost province, in national memory the place of Immanuel Kant, honorable nationalism, and military strength.  Max Egremont has captured the spirit of the land and its people." —Professor Roger Louis
"The experience of reading Max Egremont's wonderful evocation of the final years of East Prussia is like watching a film whose images you know will stay with you for years to come. You stumble out onto the street numb and haunted, unable and reluctant to rejoin the present . . . Its characters represent not only the vanished fringes of Germany, but of that swath of Eastern Europe little known in the West and whose intensity of human experience—from doomed nobility to war-time suffering—now appears almost mythical in scale." —Phillip Marsden, Country Life
"Forgotten Land [is] a work of consummate artistry . . . Max Egremont dovetails the stories of individual East Prussians with the wider narrative's tangled skein . . . [Egremont has] a deftly controlling intelligence which draws the reader in before resuming the main thread. The result is continuously satisfying both as a work of art and as a professional work of history." —Hywell Williams, The Spectator
"[Egremont's] new book, mixing a personal quest with the strange history of [East Prussia], represents the very best form of travel writing . . . Finally, in a post-totalitarian age, the deeper history of the country is now allowed to raise its head." —Antony Beevor, The Mail on Sunday
"In Forgotten Land: Journeys Among the Ghosts of East Prussia, Max Egremont reconstructs the tragic sequence of events that took place in this picturesque region on the Baltic Sea . . . As we delve into the history of East Prussia, the author introduces us to a range of people. Tracking these individuals across time provides us with a nuanced sense of how each person dealt with conflict and turmoil. Some became martyrs, others villains . . . Egremont observes: 'Terrible things happen to countries—yet most of them can be proud of much of their past; here such pride skulks in secret, as if within a forbidden sect.' Most of the people who were driven out of their East Prussian homeland are gone now. This potent book bestows an overdue honor to their memory." —Vick Mickunas, Dayton Daily News
"Max Egremont's idiosyncratic . . . and beautifully written volume makes an ideal guide to this shifting, shadowy realm. In part a piecemeal history of the final half-century of German East Prussia, in part a travelogue through what was left behind, Forgotten Land is gently elegiac. Shifting constantly between present and a variety of pasts, it is as wistful as a flick-through of an old photo album, as melancholy as a rain-spattered northern autumn afternoon . . . On visiting Kaliningrad in the 1960s, the poet Joseph Brodsky wrote that the trees 'whisper in German.' They don't any more. But Max Egremont heard their last words." —Andrew Stuttaford, The Wall Street Journal
"Max Egremont is at his best when describing his travels and conversations. He has a good sense of local atmosphere and a sharp eye for how 'the tourist trail reshapes the past' . . . The interwoven story lines are artfully managed, the anecdotes are lively, and Egremont's urbane voice carries the reader along." —David Blackbourn, Times Literary Supplement
"Egremont eloquently survey the 'layered history' of a land in which Germans, assorted Slavs, Lithuanians, and even French Huguenots have left their marks. He draws on testimonies of former residents and provides often touching biographical vignettes of some prominent East Prussians in what is a striking yet melancholy tribute to a homeland now consigned to history." —Jay Freeman, Booklist