Hotel on the Corner of Bitter and Sweet: A Novel (Hardcover)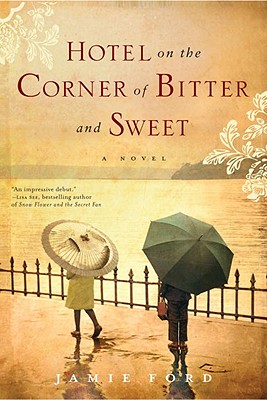 Please email or write store for pricing and availability information.
Special Request - May Not Be Available
September 2009 Indie Next List
---
"In 1986, Henry Lee happens upon the Panama Hotel in Seattle, where discoveries in the basement bring back haunting memories of the 1940s. Hotel on the Corner of Bitter and Sweet tells of family pride, innocence, young love, jazz clubs, and internment. This novel will delight all ages -- it's good for reading aloud and great for discussions."
— Barbara Theroux, Fact & Fiction, Missoula, MT
February 2009 Indie Next List
---
"The Japanese internment of WWII comes alive in this timeless story, set in 1940s Seattle, of the power of the human heart to rise above hatred and bigotry. This is a book to share with others."
— Marilyn Scheer, East West Bookshop, Seattle, WA
Description
---
NEW YORK TIMES BESTSELLER • "An impressive, bitter, and sweet debut that explores the age-old conflicts between father and son, the beauty and sadness of what happened to Japanese Americans in the Seattle era during World War II, and the depths and longing of deep-heart love."—Lisa See

In 1986, Henry Lee joins a crowd outside the Panama Hotel, once the gateway to Seattle's Japantown. It has been boarded up for decades, but now the new owner has discovered the belongings of Japanese families who were sent to internment camps during World War II. As the owner displays and unfurls a Japanese parasol, Henry, a Chinese American, remembers a young Japanese American girl from his childhood in the 1940s—Keiko Okabe, with whom he forged a bond of friendship and innocent love that transcended the prejudices of their Old World ancestors. After Keiko and her family were evacuated to the internment camps, she and Henry could only hope that their promise to each other would be kept. Now, forty years later, Henry explores the hotel's basement for the Okabe family's belongings and for a long-lost object whose value he cannot even begin to measure. His search will take him on a journey to revisit the sacrifices he has made for family, for love, for country.

Praise for Hotel on the Corner of Bitter and Sweet

"A tender and satisfying novel set in a time and a place lost forever, Hotel on the Corner of Bitter and Sweet gives us a glimpse of the damage that is caused by war—not the sweeping damage of the battlefield but the cold, cruel damage to the hearts and humanity of individual people. This is a beautifully written book that will make you think. And, more important, it will make you feel."—Garth Stein, bestselling author of The Art of Racing in the Rain

"Mesmerizing and evocative, a tale of conflicted loyalties and timeless devotion."—Sara Gruen, bestselling author of Water for Elephants

"A wartime-era Chinese-Japanese variation on Romeo and Juliet . . . The period detail [is] so revealing and so well rendered."—The Seattle Times

"A poignant story that transports the reader back in time . . . a satisfying and heart-wrenching tale."—Deseret Morning News

"A lovely combination of romantic coincidence, historic detail and realism that is smooth and highly readable . . . Ford does wonderful work in re-creating prewar Seattle."—The Oregonian
About the Author
---
The son of a Chinese American father, Jamie Ford is the author of the New York Times bestselling novels Songs of Willow Frost and Hotel on the Corner of Bitter and Sweet, which won the Asian/Pacific American Award for Literature. Having grown up in Seattle, he now lives in Montana with his wife and children.
Praise For…
---
"An impressive, bitter, and sweet debut that explores the age-old conflicts between father and son, the beauty and sadness of what happened to Japanese Americans in the Seattle era during World War II, and the depths and longing of deep-heart love."—Lisa See

"A tender and satisfying novel set in a time and a place lost forever, Hotel on the Corner of Bitter and Sweet gives us a glimpse of the damage that is caused by war—not the sweeping damage of the battlefield but the cold, cruel damage to the hearts and humanity of individual people. This is a beautifully written book that will make you think. And, more important, it will make you feel."—Garth Stein, bestselling author of The Art of Racing in the Rain

"Mesmerizing and evocative, a tale of conflicted loyalties and timeless devotion."—Sara Gruen, bestselling author of Water for Elephants

"A wartime-era Chinese-Japanese variation on Romeo and Juliet . . . The period detail [is] so revealing and so well rendered."—The Seattle Times

"A poignant story that transports the reader back in time . . . a satisfying and heart-wrenching tale."—Deseret Morning News

"A lovely combination of romantic coincidence, historic detail and realism that is smooth and highly readable . . . Ford does wonderful work in re-creating prewar Seattle."—The Oregonian

"Heartfelt . . . a timely debut that not only reminds readers of a shameful episode in American history, but cautions us to examine the present and take heed we don't repeat those injustices."—Kirkus Reviews

"Ford's story of an innocent passion across racial barriers—and of the life of a man who forsook the girl he loved—is told with an artistic technique that makes emotion inevitable."—Louis B. Jones

"A beautiful and tender masterpiece . . . a book everyone will be talking about, and the best book you'll read this year."—Anne Frasier

"A heartwarming story of fathers and sons, first loves, fate, and the resilient human heart . . . marvelously evocative."—Jim Tomlinson