Hand-me-down Heartache: ['A Novel' to appear on TP only] (Mass Market Paperback)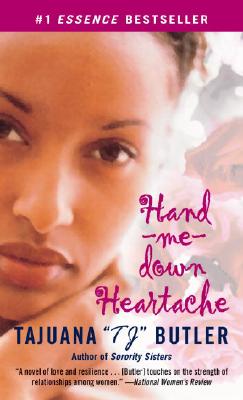 Please email or write store for pricing and availability information.
Special Request - May Not Be Available
Description
---
New, from the author of Sorority Sisters, a novel about a young woman navigating the sometimes rocky terrain of family, career, and relationships.

After graduating from college, Nina Lander moves back in with her parents as she temps and tries to secure a "real" job. She isn't finding it very easy to break into television broadcasting, and her parents' strained marriage has made living at home even more depressing. But when she meets Maurice, a promising basketball rookie, Nina feels as if she's found the one. She is determined to make the relationship work, despite evidence that Maurice isn't always faithful, which hurts Nina but doesn't surprise her. Her father cheated on her mother, and her brother cheats on his girlfriends thus she has low expectations of the men in her life.

When Nina's chance encounter with Leo, a high school classmate who's become a successful rapper, sends Maurice into a jealous rage, it is not long before Nina's friends are urging her to let Maurice go. Even though she finds her dream job as a sports reporter for a local television station, Nina still can't keep Maurice out of her mind. To complicate matters, Leo seems to be everything Maurice is not. Nina must decide between a man she loves who treats her wrong and a man who is willing to do everything right.

But all of this takes a backseat when her mother falls ill and Nina puts her life on hold to take care of her. As both mother and daughter examine their relationships with the men in their lives, and as Nina's mother finally confronts her husband about his mistreatment of her, Nina finds the strength to break the chain of heartache.

In Hand-me-down Heartache, author Tajuana TJ Butler has crafted a heartwarming novel about the strength of relationships among women, be they family or friends.
About the Author
---
Tajuana "TJ" Butler is the author of the novel Sorority Sisters and the forthcoming The Night Before Thirty. She has published a collection of poetry, Desires of a Woman, and is a gifted public speaker. She lives in Los Angeles. For more information about Butler and her books, publicity tour, and other news, visit her website at www.tjbutler.com. "From the Trade Paperback edition."
Praise For…
---
Praise for Sorority Sisters

"Butler's approach to the issues surrounding sororities and fraternities, sex and relationships, friendships and sisterhood, [is] genuine and down to earth. Sorority Sisters is a relaxing read that offers a trip down memory lane for some and a heads-up for others."
--Black Issues Book Review

"Tajuana TJ Butler scores big with this effort. Serious subtexts involving STDs and loyalty never come across as preachy. Butler keeps her prose light and entertaining, making Sorority Sisters an enjoyable page-turner."
--Honey magazine