Leap!: What Will We Do with the Rest of Our Lives? (Paperback)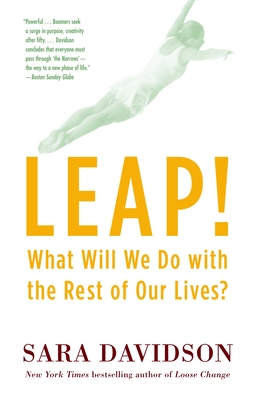 Please email or write store for pricing and availability information.
Special Request - May Not Be Available
Description
---
Thirty years ago, Sara Davidson wrote the phenomenal bestseller Loose Change, the definitive book about the boomer generation's coming-of-age. Now this witty social observer has again turned her discerning eye to her contemporaries, with Leap , a no-holds-barred, illuminating, and hopeful look at the choices and challenges we face and the roads open to us. For many years Davidson earned a living as a successful journalist and screenwriter, but in her fifties she saw her life come apart: She could no longer find work, she endured a break-up with her partner, and her children left for college. For the first time ever, she had nothing to do. She felt adrift, but she found that she was not alone. In Leap , Davidson sets out on a passionate quest to learn how to do the coming years well. Drawing on her own experience and that of others, she explores such questions as - How does a high-powered person learn to walk down the ladder gracefully?
- How can women continue to be sensual and not touch-deprived?
- How do we arrange to grow old with our friends?
- What will be the fire at the center of our lives?
- Why are we still here? Davidson interviews people from across the country and from all walks of life, including such icons as Carly Simon, Tom Hayden, Tracy Kidder, Jane Fonda, Ram Dass, and Iman, as well as teachers, writers, psychologists, businesspeople, and spiritual leaders. The candid portraits are both inspiring and cautionary. True to character, boomers will approach these years differently from previous generations, and there will be no single path. Some will feel free for the first time to take risks; others will embark upon a spiritual search; some will want to give back, to make the world a better place; others will want to play or make creativity a priority. But they will not fade quietly into the sunset. With Leap , Sara Davidson holds up a mirror for readers, allowing them to see not only themselves and those around them but their potential future. With Davidson as a guide, the possibilities are boundless. From the Hardcover edition.
About the Author
---
Sara Davidson wrote the definitive book about the baby-boomer generation: the phenomenal New York Times bestseller Loose Change--still in print (and was also made into a six-hour NBC miniseries). She is also the author of Real Property and Cowboy, both national bestsellers. In the 1990s she was co-executive producer and head writer of the CBS series Dr. Quinn, Medicine Woman, for which she was nominated for a Golden Globe, and she has produced and written more than 60 hours of other television movies, miniseries, and dramatic episodes. She is a host for her local public radio station, KGNU, in Boulder, Colorado, is a contributing editor to O: The Oprah Magazine, and writes regularly for The New York Times Magazine, Esquire, Harper's, the Atlantic, the New York Times Book Review, Los Angeles Times, and Rolling Stone. She lives in Boulder, Colorado.